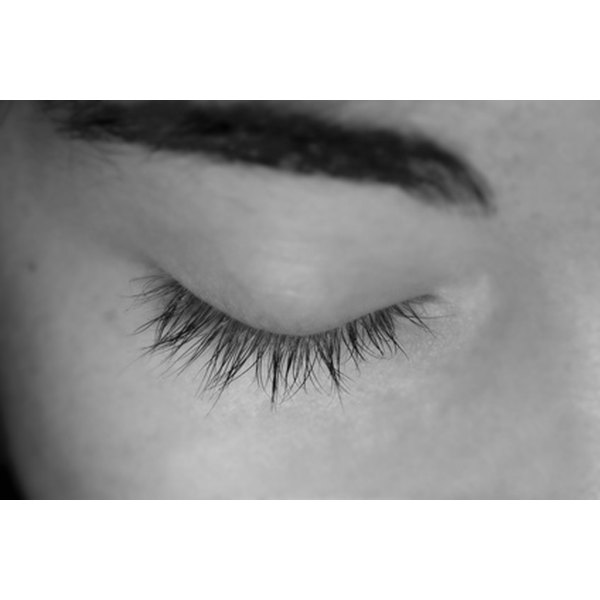 A 2010 survey in the "Journal of Sleep Research" indicates that up to 40% of adults experience insomnia. Many treatment options for such sleep disorders are available. Yet a 2008 review in "Prescrire International" encourages people to avoid prescription sleeping pills. These drugs may enhance sleep quality, but they also cause side effects. A 2009 report in "Sleep Medicine" suggests that many people now choose over-the-counter treatments instead. These readily available options include drugs, herbs, and hormones. Yet only a few of these medications are scientifically proven to be effective.
Diphenhydramine
Diphenhydramine hydrochloride is an antihistamine drug found in many over-the-counter products. A 2005 report in "Sleep" looked at the effects of diphenhydramine in people with insomnia. The results indicate that 50 mg of diphenhydramine administered for 14 days increased sleep efficiency and reduced insomnia severity when compared to placebo. The drug was well tolerated and did not have after effects.
Doxylamine
Doxylamine succinate is another antihistamine drug found in various readily available medications. According to the 2009 update in "Drug Bank," it is the most potent hypnotic drug available without a prescription. A 1985 study in "Clinical Pharmacology and Therapeutics" shows that 25 mg of doxylamine enhanced several measures of sleep quality in healthy individuals. These effects were obtained after a single administration of the antihistamine. Interestingly, this experiment also found that the combination of 25 mg of doxylamine and 1 g of acetaminophen had even greater effects. The subjects, however, often reported feeling "drugged" after receiving doxylamine.
Valerian
Valerian is a herb created by processing the roots of the flowering plant Valeriana officinalis. It is available as an herbal supplement at most health food stores. A 2010 review in "Sleep Medicine" reveals that valerian shows promise as an over-the-counter sleep aid. The 2005 study in "Sleep" noted above shows that the combination of valerian and hops reduced insomnia severity and improved life quality after 28 days of treatment. Valerian caused no adverse reactions in this experiment.
Kava
Kava is a herb made from the roots of the plant Piper methysticum. It is available as an herbal supplement at most health food stores. A 2001 report in "Phytotherapy Research" tested 120 mg of kava given orally to people with insomnia for 6 weeks. The findings reveal that kava decreased stress and improved sleep. However, 42% of the patients reported minor side effects like dizziness. In addition, some kava products may cause liver damage. A 2004 analysis in "Toxicological Sciences" suggests that this problem can be avoided by ingesting only the roots of the kava plant.
Melatonin
Melatonin is a hormone released by the pineal gland. It can be synthesized and put into a pill form. Like the herbs, melatonin is available at most health food stores. A 2009 report in "Aging: Clinical and Experimental Research" shows that 5 mg of melatonin given for 60 nights increased sleep quality and decreased depression scores in older people with insomnia. In fact, melatonin was effective enough to allow many of these patients to stop taking their prescription sleeping pills. No significant side effects of melatonin treatment were noted.