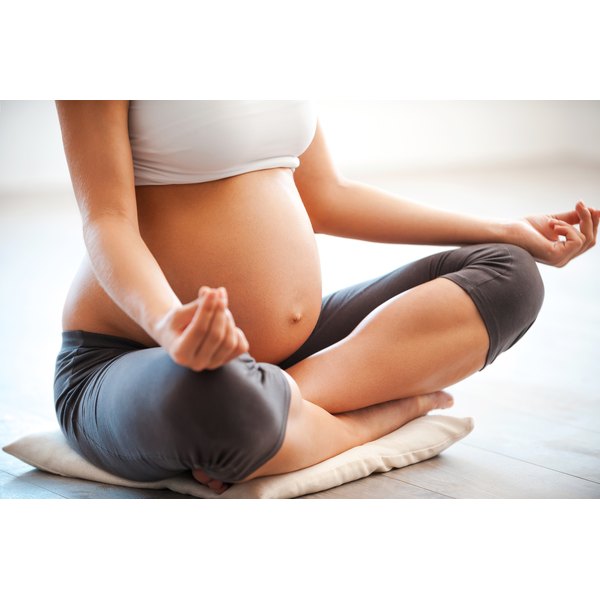 Pregnancy support belts, also known as maternity belts or belly belts, are simple, strap-like contraptions that serve a very useful purpose. These belts take some of the weight of the belly off of the mom-to-be, helping to alleviate back pain, encourage comfort and improve mobility. Ultimately, your choice for a support belt boils down to your own personal needs, comfort level and budget, but knowing what to look for helps you make the most effective choice.
Who Needs It
As your uterus grows during pregnancy and your belly expands, you may find yourself suffering from moderate to severe back or abdominal pain; if this is the case, a maternity belt may ease the pain by redistributing the weight and providing extra support. According to user testimonies from expectant moms at Babycenter.com, belly belts may also help alleviate pelvic pain, muscle swelling and achy sides. Maternity belts particularly come in handy for women expecting twins or those who have to stay on their feet for many hours at a time, but anyone can wear one and experience some benefits. For a basic belt that caters to moms who aren't in a great deal of pain, maternity expert Erica Matteson recommends the elastic light maternity support belt from Gabrialla.
Find Your Fit
Using a measuring tape, measure the circumference of your hips with the tape aligned vertically just in the center of your hip bones. Choose a belt size that matches this hip measurement. When wearing the belt, you should feel an immediate lift under your lower belly and slight but firm pressure on your lower back. Walk a few paces with the belt; with an ideal fit, you should not even notice that you're wearing a maternity belt. Get a feel for the material as you fit the belt -- the material should not scratch or irritate the skin. While the Gabrialla light support belt caters best to petite women with "basketball"-shaped bellies, according to Matteson, the Mother-To-Be Support Belt is a better fit for taller, curvier expectant mothers and those experiencing a bit more pain.
Belts to Suit Your Needs
While pregnancy support belts all serve the same basic function, they come in a few different variations. If you find yourself engaged in lots of different day-to-day activities, seek a two-part belt -- these belts have front and back panels for on-the-fly tension adjustment, allowing you choose more or less support depending on activity. Belts with additional panels and shoulder cradles provide even more reinforcement; for vulvar discomfort, seek a belt with included vulvar support. If you experience pain when you're lying down and will mostly wear the belt to bed, seek a less heavy-duty, single-part model made from thinner, stretchier material. On a similar note, the product reviewers at Galt Technology, Inc., recommend the MaternaBelt Stretch model, calling it "near perfect for fit and comfort."
More to Consider
You can find pregnancy support belts at brick-and-mortar maternity stores or online maternity shops. As of 2014, prices range from about $20 to $85 per belt. To find the top belt for you, bring a partner as you shop to help you try on belts -- if possible, shop at a maternity store and seek assistance from the staff or a trained doula. After your pregnancy, consider a postpartum support belt to help ease back pain and support your core muscles as your body and organs transition into their pre-pregnancy state.