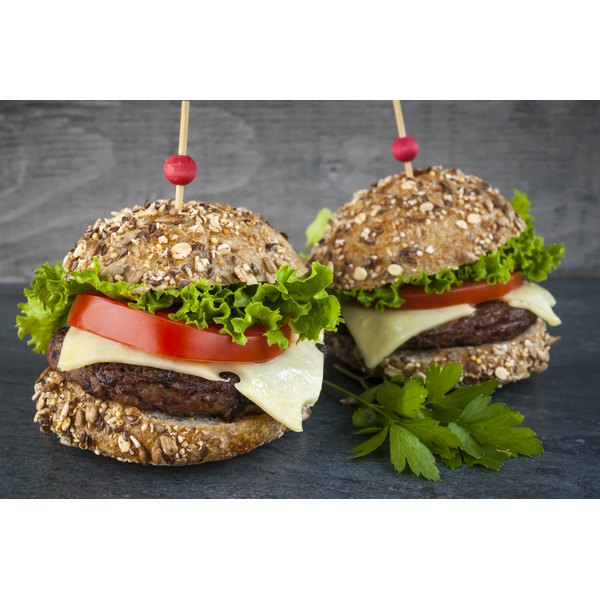 Check the Fat Content of Ground Beef
Hamburgers consist of ground up meat, usually beef. When you choose the meat at the grocery store, look for meat with the least amount of fat. Ground beef labeled "lean" still has 10 g of total fat, and 4.5 g are saturated fat. Extra lean beef has 5 g of fat and 2 g of saturated fat. You should choose ground beef with less than 10 percent total fat, and consider packages labeled "Choice" or "Select" as these usually have less fat.
Substitute Ground Turkey
An easy way to substitute for ground beef in hamburgers without losing a lot of flavor is to use ground turkey. Most people won't notice the difference or even enjoy the slight change of flavor. In addition, ground turkey has less fat than ground beef, which makes these hamburgers healthier. However, when purchasing ground turkey, make sure you read the label. Like ground beef, you want the ground turkey with the least amount of fat, which means the skin shouldn't be included.
Add Vegetables to the Meat
One way to trick children and partners into eating vegetables they don't want is to mix the vegetables into the ground meat. You can add carrots, zucchinis and even apples to the meat. Put vegetables and meat into a food processor and process until you've mixed all the ingredients together. Shape the hamburger patties and cook them as you normally would. This is also a good way to save a little in your grocery budget, since vegetables are cheaper than meat.
Retain Moisture
Cook the burgers on low to medium heat to retain all the juices. If the burger is juicier, you won't need to add fattening condiments like mayonnaise. In addition, use a spatula to turn the burgers so you don't lose juices like when you stab the burgers with a fork. Add salt after cooking to prevent the juices from escaping while cooking.
Think About the Condiments
You're not doing any good if you make a healthy hamburger patty and slather it with mayo and greasy cheese. Add lots of vegetables to your hamburgers such as sprouts, peppers, cucumber and even spinach. Use a whole grain bun rather than a refined flour bun. If you're worried your burger will be dry without mayo, add salsa or a lower calorie alternative.