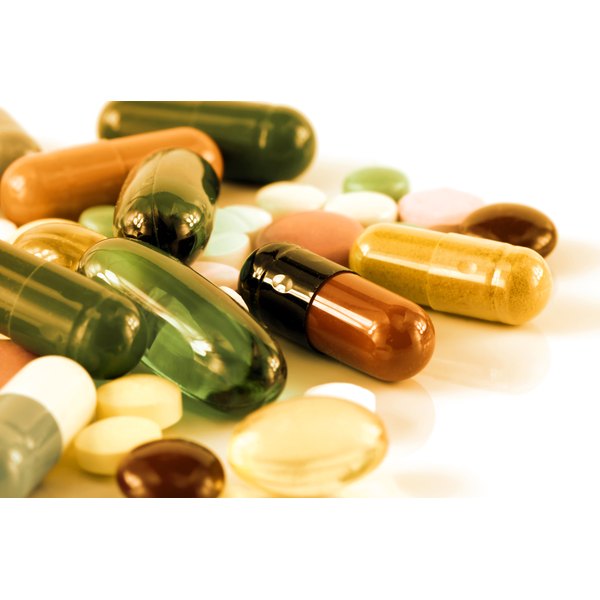 Magna Rx is a dietary supplement taken orally for the treatment of impotence and decreased libido. Websites that sell Magna Rx claim that the pills can increase the number of blood vessels within the chambers of the penis. Many of the ingredients in Magna Rx have been used for centuries enhance the libido. Because dietary supplements are not government regulated, manufacturers are not obligated to prove the validity of their claims.
Pygeum
Pygeum is an oil made from the bark of a prune tree native to forests in Africa, Pygeum africanum. It has been cultivated for centuries to treat sexual dysfunction and an enlarged prostate. As a supplement it can be used to increase bladder function. The National Institutes of Health indicates that Pygeum africanum oil may aid in reversing sterility caused by prostate problems, may increase semen production and improve sexual function.
Epimedium
More popularly referred to as horny goat weed, epimedium is a leafy plant known for centuries as a libido-increasing aphrodisiac. The Mayo Clinic indicates that horny goat weed "may help raise low levels of testosterone and thyroid hormone." There is little evidence, however, that epimedium is a successful treatment for sexual dysfunction. Side effects may include breathing problems, warns the Mayo Clinic.
Maca
Maca (Lepidium meyenii) is a Peruvian plant used to improve libido affected by selective-serotonin reuptake inhibitor (CCRI) medications. A 2008 Massachusetts General Hospital study gave 20 patients with sexual dysfunction either 3 g or 1 1/2 g maca daily. The patients who took 3 g maca saw a significant improvement in sexual dysfunction while the latter group saw no improvement at all. Some well-known SSRIs include Celexa, Prozac and Zoloft.
Asian Ginseng
Some of the primary uses for herbal Asian ginseng include increasing stamina, improving mental and physical performance, treating erectile dysfunction and stabilizing blood pressure. According to the National Institutes of Health, Asian ginseng is typically well tolerated but has been known to cause headaches, sleep problems, gastrointestinal problems or allergic reactions. The Mayo Clinic warns that when taken with antidepressant monoamine oxidase inhibitors (MAOI), ginseng can cause mania.
L-Arginine
L-arginine is a semi-essential amino acid commonly used for the treatment of erectile dysfunction. L-arginine works by changing into nitric oxide, which causes blood flow to increase and blood vessels to dilate. The National Institutes of Health also indicate that L-arginine enhances the production of sperm. Because the body produces L-arginine on its own, most people do not need to take it in supplement form.