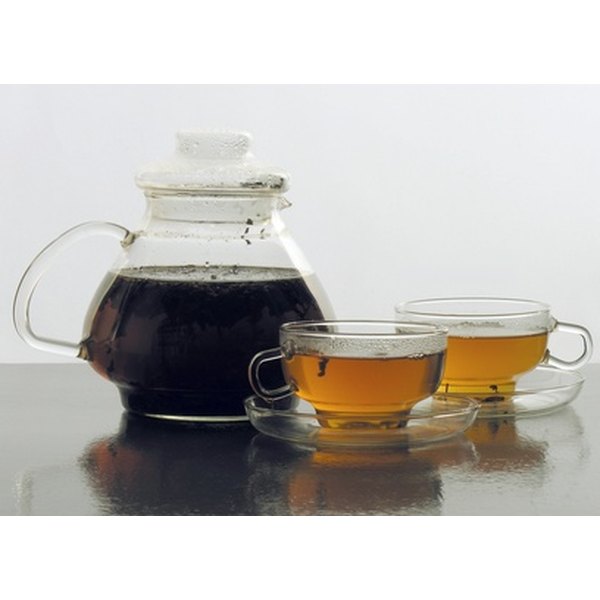 Thermogenic herbs dominate the over-the-counter supplement industry. These botanical stimulants are frequently promoted as "fat burners" or metabolism-boosters; in theory, they facilitate weight loss by increasing the temperature and heart rate of the human body. Naturopaths and conventional health care practitioners both widely question the safety of thermogenic herbs. The U.S. Food and Drug Administration notes that many of these products can cause anxiety, insomnia, addiction, hypertension, heart attack and even death. Consult your health care provider before taking any thermogenic herb.
Tea
Extracts of the tea plant contain caffeine, a popular and relatively safe thermogenic. Green tea additionally contains epigallocatechin gallate or EGcG, a powerful antioxidant associated with several key health benefits. The University of Maryland Medical Center notes that EGCG may be partially responsible for green tea's reputation as a fat burner.
Guarana
The tropical plant guarana contains high concentrations of naturally occurring caffeine. Like other herbs containing caffeine, it may cause addiction, anxiety and insomnia. A report from "Consumer Search" states that guarana can have negative interactions with other stimulants and products with caffeine.
Yerba Mate
A popular South American herb, yerba mate -- Ilex paraguariensis -- may be used as a high-antioxidant alternative to coffee. Like guarana, it contains caffeine and may cause "jitters" or anxiety. A study in the August 2008 "Archives of Biochemistry and Biophysics" explains that yerba mate shows and "anti-obesity" properties, and helped prevent obesity in rats that were fed a high-fat diet.
Ephedra
The Chinese herb ma huang, or ephedra, has been banned from many Western markets because of its many serious side effects. The U.S. Food and Drug Administration links ephedra to serious adverse events like psychosis, heart attack and stroke, and banned the sale of ephedra products in the United States in 2004, according to the National Center for Complementary and Alternative Medicine.
Bitter Orange
Synephrine, a compound found in bitter orange, is chemically similar to ephedra according to the June 2012 issue of "Toxicology and Applied Pharmacology." While this herbal thermogenic may help to promote weight loss, it may also contribute to heart disease and other serious health problems, as it increases heart rate and blood pressure.
Garcinia Cambogia
Garcinia cambogia may suppress the appetite and boost the metabolism. However, this effect has only been demonstrated in animal tests, not human clinical trials. The 2013 issue of the "World Journal o Gastroenterology" reports that even though garcinia cambogia helps reduce the accumulation of abdominal fat, it still delivers negative health consequences such as inflammation, liver disease and oxidative stress. According to the book, Brain Aging: Models, Methods, and Mechanisms, oxidative stress and inflammation work together to accelerate aging in the body and brain.