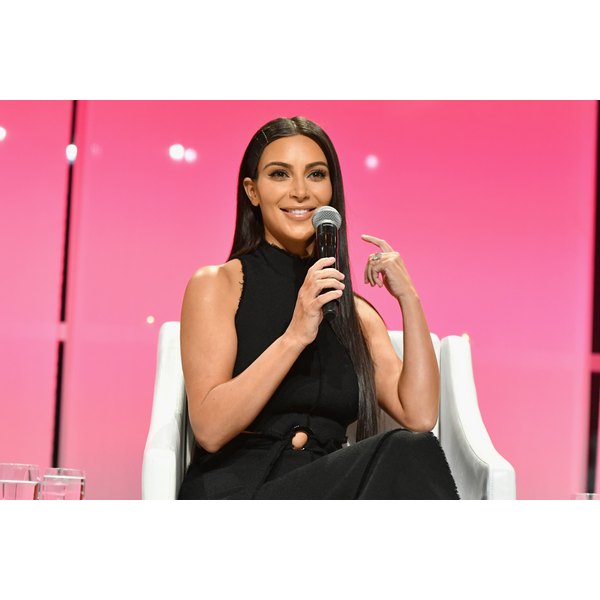 Despite the fact that pretty much every woman in the world has cellulite, people still feel the need to shame others over totally common "imperfections." Kim Kardashian is the latest celebrity to face ridiculous scrutiny about her appearance after flaunting her totally unairbrushed beach bod during a vacation in Mexico, and her response was hilarious.
During her sister Kourtney's getaway birthday celebration, Kim put her famous booty on display in a number of cheeky swimsuits. Several people, including British TV host Piers Morgan, were incredibly offended by what she revealed, but not because she was showing too much skin. People were actually upset because Kim — who has birthed two children and is in her mid-30s — isn't perfect.
The backlash from trolls on social media was bad enough, but Morgan still felt the need to respond, declaring "flaws should not be celebrated."
Excuse me?
Instead of letting the body police ruin her vacation, the reality star clapped back to Morgan and haters on social media. According to The Sun, her first response was in the form of a Twitter rant, which she promptly erased a minute after posting. "Yup I've recently seen perspective is a bitch. I'll work on taking good videos with better lighting & angles. F**k you," she reportedly spat.
Kim also shared a tongue-in-cheek video on Snapchat in which she claims her good friend and makeup artist Jen Atkin fat-shamed her for indulging in an Oreo milkshake. Kim's response to the incident: "@jenatkinhair spiked my Oreo shake to try to get me to not eat it because she's fat shaming me," she wrote along with the video of her spoon-feeding herself the shake with pink ears and a snout.
"Little piggy, that's me," Kim chides. Later on, she followed it up with another tweet: "Oh and as for me you ask? I'm just sitting here on the beach with my flawless body." Well done, Kim. Well done.
Just to put the absurdity of this situation in perspective, here's a startling statistic: 90 percent of women (and only 10 percent of men) will be affected by cellulite in their lifetime, according to Scientific American. So if you have a vagina, it's pretty darn likely you'll develop the fatty nodules at some point.
Another crazy stat: According to dosomething.org, only 5 percent of women naturally possess the body type typically portrayed by Americans in the media. Morgan should consider himself lucky he likely won't have cellulite and that he doesn't have to endure the same scrutiny that women do.
Kim Kardashian may or may not be your favorite person in the world, but you must admit that her response to body shamers is truly inspiring. She is telling the world that she is a human being — just like the rest of us — and that despite the fact she has cellulite, she'll drink a milkshake if she damn well pleases.
In the words of Kendrick Lamar: "I'm so f-in' sick and tired of the Photoshop. Show me something' natural like a** with some stretch marks." Aren't we all, though?
What Do YOU Think?
Do you think Kim K's response to her body shamers was on point? Do you have cellulite? Are you insecure of showing it off in public?