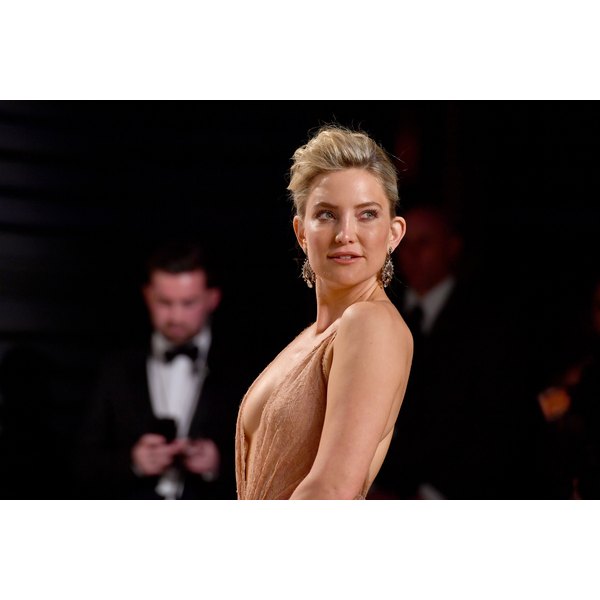 People are willing to invest a lot of money in looking and feeling good, so it's no surprise that skin care is a multibillion-dollar industry in the United States. But according to actress Kate Hudson, the key to a flawless face isn't a pricey face serum or obscenely expensive laser treatments at a Hollywood clinic — it's simply ditching meat and dairy products and going vegan.
"My skin, like my body, it fluctuates. I'll have three [good] days, and then — boom — I've got pimples showing up. I've had a hard time figuring it out," the actress recently told Vogue.
What has she learned? You are what you eat when it comes to your skin. "When I went vegan last summer, my skin was the best it's ever been — skin tone, pores, everything." When Hudson tried another healthy diet to shed some pounds, her skin didn't react as well. "Then I did Paleo, and what was interesting about Paleo was my skin wasn't as good, but your weight drops."
While the "Deepwater Horizon" star didn't clarify whether she maintains a vegan diet, she made it clear that health is her top priority. "Food's so good when it's naughty, but the truth is you've got to eat healthy!" she continued, explaining she tried to adhere to a gluten-, sugar- and dairy-free diet — most of the time. "But then if I happen to be at a restaurant and they send out a dessert, I'm going to eat the dessert. And if Mario Batali whips up a pasta, I'm not going to say no!"
Hudson's not alone in her findings. British beauty pageant contestant Rachel Crawley is documenting how changing her diet and going vegan cured her lifelong skin struggles.
"When I went to the doctors, they told me food does not cause acne. Yet changing certain things in my diet for me worked," Crawley wrote in a recent post. "What we don't realize is certain foods do effect our hormones. Such as dairy, meat and sugar." Crawley has attracted a following on Instagram by posting dramatic before-and-after photos of her skin evolution.
Kimberly Snyder, longtime vegan and nutritionist to stars like Reese Witherspoon, Kerry Washington and Drew Barrymore, endorses the diet as a skin care solution. She has written several best-selling books about the relationship between food and the face, body and mind, including "The Beauty Detox Solution: Eat Your Way to Radiant Skin, Renewed Energy and the Body You've Always Wanted."
"Nourishing your skin begins from the inside with the foods you eat. Because the skin is an organ, it requires nutrients to maintain vibrant health," she explained on her website.
Beyoncé and Jay-Z's go-to diet consultant Marco Borges agrees. He encourages plant-based diets for a variety of reasons, including healthy skin. "They [Beyoncé and Jay -Z] were getting people saying, 'Your skin has this glow.' And who doesn't like being told they look awesome?" he told People about the power couple's experience with veganism.
If you are considering a plant-based or totally vegan diet, keep in mind that you can't just cut meat and dairy out of your diet — you need to carefully replace them with other foods or vitamins that contain B-12, zinc and iron. If you don't and become nutrient deficient, your skin will likely worsen instead of improve.
What Do YOU Think?
Does diet have a serious impact on skin? Have you ever tried a vegan diet like Kate Hudson? Did it make a difference?