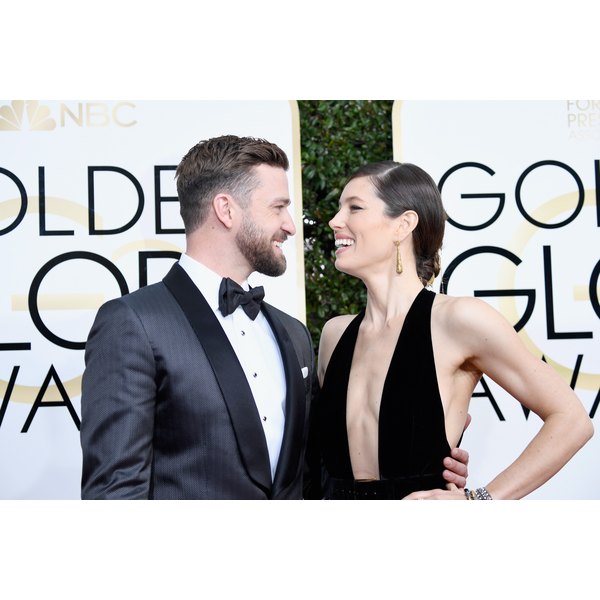 With her flawless complexion and his sculpted physique, it isn't surprising that Jessica Biel and Justin Timberlake are health nuts. Unlike some other Hollywood stars, however, this gorgeous couple isn't compulsive when it comes to their eating habits: They even admit to majorly cheating on the family's gluten-free(ish) diet with one irresistible meal.
Biel, who grows a lot of her own fruits and vegetables at their Los Angeles home, recently revealed to the Los Angeles Times that she and Timberlake are really focused on moderation when it comes to healthy eating. "Not all-out anything," she says about their diet. "Just creating a balance if possible … but honestly I just feel better when I don't have gluten or wheat or dairy."
She explains that eliminating those items not only improves her digestion, but also makes her feel better and gives her more energy. So what is a day of gluten-free(ish) meals like in the Timberlake-Biel home?
The family often starts their day with Paleo pancakes made from a mix. "It has a lot of coconut, no gluten, no wheat, no dairy — delicious," she adds. They adorn the cakes with cashews or almond butter topped with some local honey and serve them alongside some chicken-apple sausage and fresh juice. Instead of coffee, they opt for green tea with honey.
For lunch, Timberlake and Biel usually stick to salads, topping their greens with protein goodness like quinoa or grilled veggie burgers from Whole Foods or Erewhon in addition to some nuts. The dynamic duo's favorite snack? Gluten-free pretzels "with this really yummy almond cheese dip. It tastes almost like cream cheese, but no dairy."
Dinnertime at home is usually simple, clean eating: "It would be cooking up some salmon, some rice, grilling some vegetables," says Biel. If dining out, they might opt for something "a little heartier" like chicken.
But even Timberlake and Biel allow themselves to indulge every now and then. What is this guilty pleasure? "I mean, of course I have cheat days and will go out and have, like, cookies and pizza," she admits.
While the entire family tries to eat healthy, Jessica and Justin bend the rules a bit for their toddler. "Silas is a kid, so sometimes he doesn't want to eat that broccoli or eat that spinach, so you go, 'All right, pasta it is' or 'French fries it is.'"
According to Jessica Crandall, RDN, CDE, Academy of Nutrition and Dietetics spokesperson, cheat meals like these are OK, but moderation is key. "When it comes to non-nutrient rich foods, such as desserts, chips and [flavored] beverages, I encourage my clients to consume less than 150 calories per day."
In other words, if you are going to cheat like Justin Timberlake or Jessica Biel, stick to a slice of pizza and a single cookie.
What Do YOU Think?
Is Jessica and Justin's diet healthy? How do you maintain balance when it comes to eating? What is your favorite cheat meal?