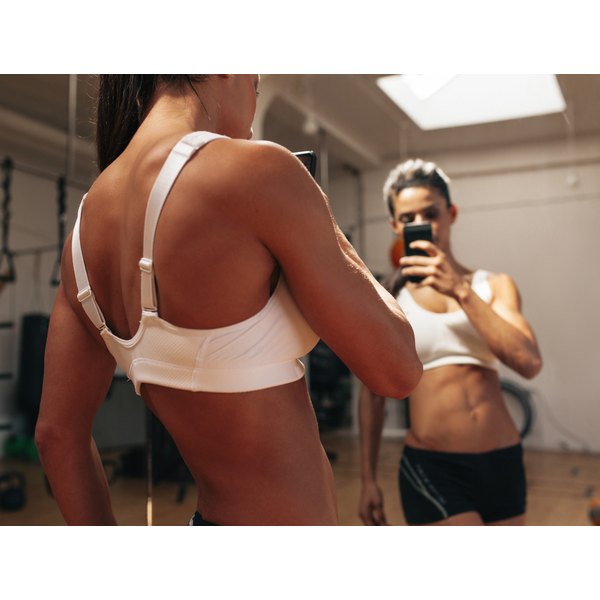 Instagram is full of gorgeous influencers in workout clothes looking to motivate people when it comes to fitness, diet and health goals. But it turns out that these "fitspiration" role models might not be the vision of health they have come to represent. In fact, a new study suggests they may be more prone to developing eating disorders and compulsive exercise habits than your average gal.
The study, which appeared in the January issue of the International Journal of Eating Disorders, examined the #fitspiration social-media phenomenon by measuring 101 women between the ages of 18 and 48 who post fitspiration images (they literally found these women by searching the hashtag on Instagram) against 102 who post inspiring travel images.
Both the groups completed a survey measuring disordered eating and compulsive exercise as well as drive for thinness and muscularity, based on the Eating Disorder Inventory (EDI). Scientists discovered that the fitness Instagramers EDI scores, their drive for thinness and muscularity and measures of compulsive exercise and bulimia were all much higher than those of the travelers.
Taking this information they then calculated that 17.5 percent, nearly one-fifth of the fitness group, was at risk of clinical eating disorder diagnoses versus only 4.3 percent of the travel group. "It seems likely, at least for some women, that even though they may present as fit and healthy, regularly posting fitspiration is a culturally sanctioned way of rationalizing dietary restriction, disordered eating and overexercising," the study concludes.
These finding are interesting, especially considering that there have been a handful of fitspo influencers who have come forward and confessed to suffering from eating disorders and body-image issues in the last few years.
In 2015, Jordan Younger, who first gained fitspo fame for her vegan blog and brand The Blonde Vegan (Now the Balanced Blonde), published a book, "Breaking Vegan: One Woman's Journey from Veganism, Extreme Dieting, and Orthorexia to a More Balanced Life," after realizing her health obsession had turned dangerous. In the book, Younger spoke about her struggle with orthorexia, a type of eating disorder that includes symptoms of obsessive behavior in pursuit of a healthy diet.
But it's not just these influencers and bloggers who should stay woke when it comes to the possible dark side of #fitspo — the women viewing these posts can be negatively impacted too.
A recent study conducted in Australia found that these "inspiring" images could actually be having an adverse effect on women, making them feel worse about their bodies instead of better. In fact, they were determined to be just as harmful to perceptions of body image — if not more — than images of painfully thin fashion models.
If anything, this reminds us that things on social media aren't always as they appear. And while you can still look to Instagram for #fitspiration if it helps motivate you to squeeze in that extra workout sesh, don't forget to be realistic when setting health and fitness goals. After all, loving your body is the most inspiring thing of all.
What Do YOU Think?
Where do you look for fitness inspiration? Do you agree with the findings of this study? Do you think these bloggers are doing more harm than good?