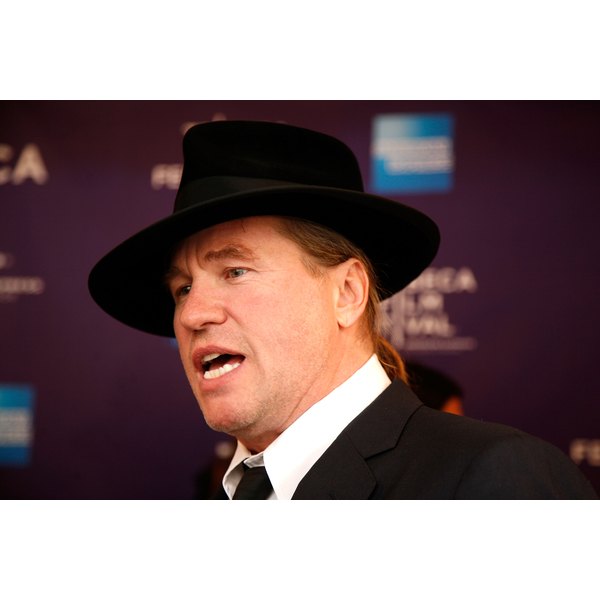 The state of Val Kilmer's health has been the subject of much speculation ever since his former co-star Michael Douglas announced (rather bizarrely) that Kilmer had oral cancer earlier this month. While Kilmer promptly denied Douglas' claims, his first public appearance following the denial has people wondering if Douglas may actually be right.
The 56-year-old actor made his first public appearance this past Thursday in Los Angeles to present the film version of his one-man play, "Citizen Twain_."_ A frail Kilmer, who appeared to have lost a substantial amount of weight, attempted to address the audience. But the actor appeared to have trouble speaking.
A video that was uploaded by People showed Kilmer struggling through his short, slurred speech and dabbing his mouth with a tissue. Kilmer also told the audience that he had to cancel his upcoming tour because his "tongue swelled."
People reports that while the actor declined to comment further on the state of his heath, he did appear to be in fine spirits throughout the rest of the night, even cracking jokes.
While Kilmer admitted to seeing a specialist for a lump via a Facebook post made earlier this year, he also said that he was told that he had no cancer whatsoever. But while it may not be cancer, obviously something is going on with the actor.
"A swollen tongue has a long list of potential causes, but the major ones include a systemic body infection, vitamin deficiencies or autoimmune disease," explains Dr. Monya De. "Oral cancers usually show up as a distinct lesion or growth somewhere in the mouth, either on the tongue or the cheek."
Ultimately, if Kilmer is saying he is cancer-free and that he's suffering from little more than a swollen tongue, anything else is simply speculation without further information. "One scenario could be stomach cancer or another kind of gastrointestinal cancer causing anemia that then leads to an overall swelling of the tongue," Dr. De tells us. "However, we have no evidence that that's what's actually going on. And it is definitely inappropriate for other actors to be commenting on their colleagues' health."
So while Kilmer chooses to keep details of his ailments to himself — which is entirely OK and his choice — the one thing that's absolutely clear about this whole bizarre situation is that it's never OK to out your friends' or colleagues' medical conditions. Especially if you might be wrong about them.