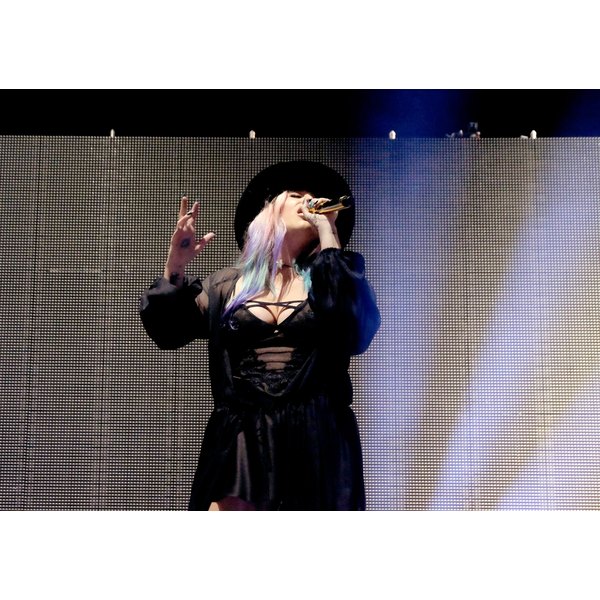 The party don't stop! Actually, it couldn't stop — according to a new profile of singer Kesha (aka Ke$ha). The New York Times interviewed the pop star, who revealed she was under intense pressure to keep up her image as a high-flying, antics-prone celebrity. So much so that she ended up in treatment for anorexia and bulimia.
Kesha (who recently dropped the $ from her name) has been embroiled in a bitter, brutal legal battle with music producer Dr. Luke since she claimed in 2014 that he raped and abused her during their time working together. A complete account of those allegations and proceedings was documented by Rolling Stone back in February — and it's worth a read.
But in this week's New York Times Magazine profile, we get a comprehensive look into the singer herself and her art, one in which Kesha delves into her lyrics and the reasons behind her mental and emotional struggles.
"To this day, I've never released a single that's a true ballad, and I feel like those are the songs that balance out the perception of you, because you can be a fun girl. You can go and have a crazy night out, but you also, as a human being, have vulnerable emotions. You have love,'" Kesha tells the Times.
Her chart-topper "TiK ToK" was dumbed down per Dr. Luke's insistence. "I remember specifically him saying: 'Make it more dumb. Make it more stupid. Make it more simple, just dumb,'" Kesha says. Those changes and his intense alleged verbal abuse about her weight were too much for Kesha.
"I was under immense pressure to starve myself," Kesha tells the Times. "And I tried to and almost killed myself in the process." During her rehab in 2014, the singer used therapies like coloring books and playing music on a toy keyboard to start her creative juices flowing again.
But there's a light at the end of the tunnel: Kesha has been posting body-positive messages on her social media and is currently on tour with Kesha and the Creepies.