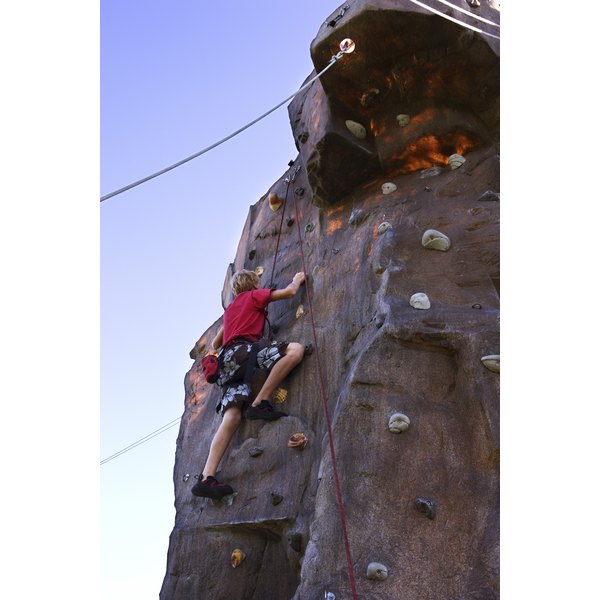 If your teen is having problems with authority, you may want to consider enrolling him in a boot camp. Along with improving discipline, leadership and job skills, boot camps can help participants complete their high school diplomas or act as an introduction to military or college. There are many other types of boot camps offered in the Battle Creek area as well, such as fitness or speech boot camps.
Michigan Youth ChalleNGe
The Michigan Youth ChalleNGe program is a voluntary 22-week course run by the Michigan National Guard at the Veterans Affairs Medical Center in Fort Custer, near Battle Creek. The program lets teens who have dropped out of high school acquire discipline and other life skills that will help them become more productive. The course is open to teens ages 16 to 18 who are unemployed, out of school and have never been convicted of a felony. Participants live in dormitories and spend their days, from 5:30 a.m. to 10:00 p.m., involved in physical fitness, academic classes, learning job skills and performing community service.
Highfields Residential Boot Camp
If your teen has managed to get himself into serious legal trouble, Highfields can help him turn his life around. The 4- to 8-month program is open only to boys ages 11 to 17, and campers cannot have arson or criminal sexual conduct on their records or be diagnosed as psychotic. Highfields has a Phoenix program, which involves a family therapy element, and a Stabilization program, which lets teens cool off and get out of the community while addressing problem behavior. The programs are available year-round and provide on-site security. Each program involves academic work, counseling, work activities, physical fitness, and indoor and outdoor experiential education activities.
Articulation and Fitness Boot Camps
If you're looking for a gentler kind of boot camp for your child, there are many choices in the area. If your teen is currently receiving speech services at a school in Calhoun County, she qualifies for the Articulation Boot Camp hosted by various schools in the county. The free camp offers students a chance to receive free speech therapy from a certified speech-language pathologist. The Rock Solid Wellness Center offers a boot camp that's geared toward all fitness levels so your teen can burn calories and tone her muscles at the same time. For teens that like to sweat, the Troy Huggett Battle Creek Boot Camp will help them get in shape while whittling away pounds and inches.