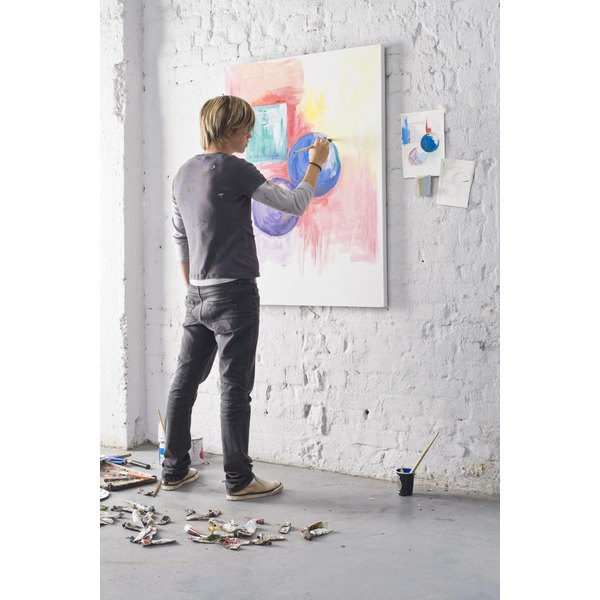 Painting gives teenagers a chance to unleash their creativity with colors and textures on a canvas, poster board or even a wall. Mixing paints and creating artwork is an engaging way to let teenagers express themselves. Several types of painting projects will appeal to teens and help them develop a passion for this art form.
Abstract Art
Abstract painting with various shapes, colors and textures helps teenagers to become skilled in applying brushstrokes to canvas and getting a feel for painting. Abstract art can also bring out their individual creativity and imagination in more ways than painting a portrait or landscape can. Teenagers can also combine other materials such as textiles and magazine clippings with paint to make intriguing abstract canvas collages.
Art History
Browsing a museum or art gallery isn't every teenager's cup of tea -- or soda, but it can help inspire a budding artist to paint. Give teenagers a few soundbites of interesting information on famous painters in history such as Monet or Van Gogh. Then take a trip to the museum to see their real-life works of art. Have the teenagers make sketches and take pictures to help them recreate similar work in the same style. This tactile lesson helps teenagers develop their own painting styles by understanding the methods used by famous artists.
Wall Decor
Teenagers typically spend quite a bit of time in their rooms. Let your teen proudly display his creativity and brighten up his bedroom with wall art or a wall mural, such as those depicting cherry trees, a beach scene or abstract designs. Paint is an inexpensive way for your teenager to decorate his room with his own artwork.
Street Art
Street art is a part of the urban fabric and can be used to enhance a barren wall, give positive messages and even clean up graffiti and vandalism. Street Art NYC notes that this type of art is fast becoming a part of popular culture. Teens can seek permission to paint a wall mural or abstract piece to express their opinions on education, culture and politics.