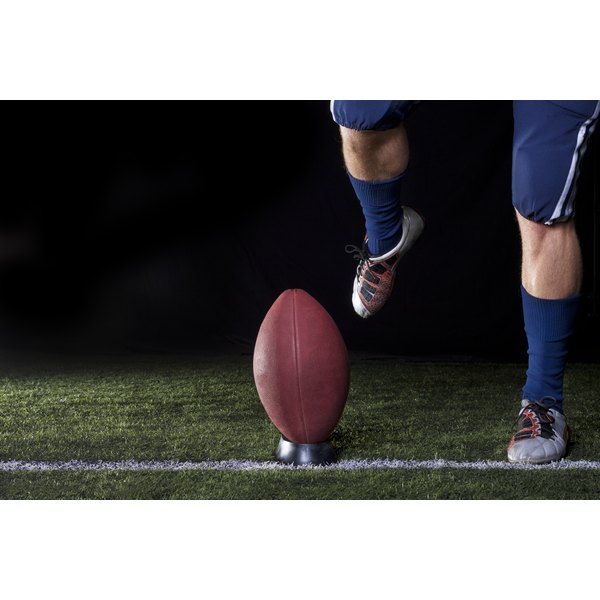 The term "football cleats" is used not only to describe the shoe you wear to play the game, but also the individual studs on the shoes that help you grip the playing surface. Also called spikes, cleats wear down during normal play and periodically need to be replaced. You'll know your cleats are worn down when they look shorter than when you set them in your shoes. Worn out cleats may also appear torn, ripped or flattened.
Double check that the studs on your shoes are detachable. Some football cleats are moldable, meaning the individual spikes are permanently affixed to the shoe. You will not be able to loosen molded cleats with your hand or a cleat wrench.

Clean your football shoes before removing worn down cleats. Remove large pieces of mud and grass by hand or hose them down briefly. Brush away debris with a stiff nylon brush.

Use a cleat wrench to remove worn out cleats. A cleat wrench is a small handheld tool that looks similar to an old-fashioned skeleton key. Place the bowl-shaped end of the wrench over the head of the first stud to be removed.

Turn the wrench counter-clockwise to loosen the studs. Football cleats are screw-based and use the same basic mechanics as most screws: Turn left to loosen and right to tighten.

Replace the cleats with new studs after you have removed all of the worn ones. Joe Theismann, author of "The Complete Idiot's Guide to Football," explains that longer spikes are used for wet playing conditions while shorter cleats help grip a dry surface more easily.

Tip

Verify the length and type of stud that is allowed in your football league. Football cleats are available in 1/4-inch increments from 1/2 to 1 inch, but not all sizes are legal for play. For example, in NCAA football, players can wear spikes no longer than 1/2 inch in most cases.