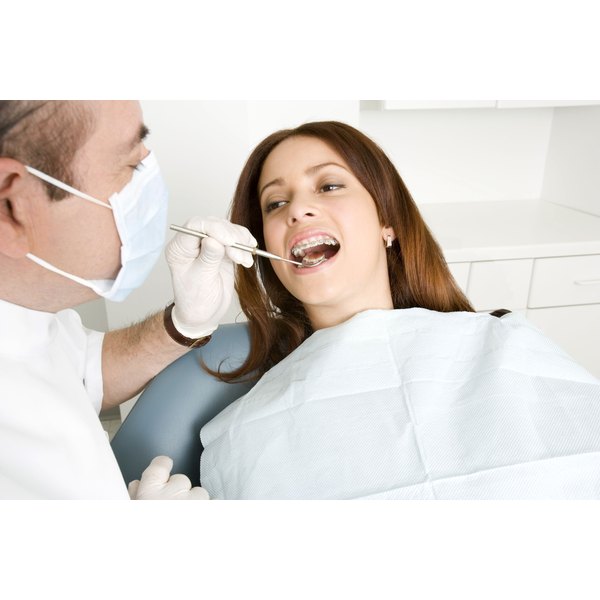 The vast majority of dentists practicing in the United States are general dentists. Also called family dentists, they perform routine examinations, pull teeth, do root canals and add fillings to teeth. They fit dentures, crowns and bridges. Some of them perform cosmetic dentistry. General dentists are qualified to treat patients of all ages. Other dentists work in certain specialized areas.
Orthodontists
Orthodontists have at least two years of specialty training in caring for patients whose teeth have alignment needs. They apply braces and other orthodontic devices to the teeth to improve eating ability and physical appearance. Orthodontists work with both children and adults.
Endodontists
Endodontists have at least two years of specialty training that enables them to specialize in working with dental pulp and surrounding tissue. They routinely perform complicated dental root canals which involve removing unhealthy pulp at the bottom of the tooth, filling the space and then sealing it. This procedure can save teeth that would otherwise have to be removed.
Oral and Maxillofacial Surgeons
Oral and maxillofacial surgeons have at least three years of specialty education in treating disease and injury of the mouth and surrounding area. A portion of their advanced training is related to the care of patients needing anesthesia. They routinely perform complex surgeries related to dental problems, such as removal of wisdom teeth and placement of dental implants. They may care for patients with oral cancer and may be called upon to perform surgery on trauma victims with facial injuries.
Prosthodontists
Prosthodontists work to create artificial teeth, such as dentures, individual tooth implants and dental bridges of several artificial teeth. They may work with patients and fit the artificial teeth themselves or they may fulfill orders placed by general dentists. Prosthodontists have at least three years of training beyond that required of a general dentist.
Pediatric Dentists
Pediatric dentists have at least two years of specialized training in the treatment of children from birth through adolescence. These dentists care for the unique dental problems of children and they are experienced at helping them have a positive first dental visit.
Periodontists
Periodontists obtain at least three years of specialty training in the field of gum disease. They are qualified to treat cases of gum disease and diseases of other structure near the gums. They also perform dental implant procedures and monitor patients for bone loss near the teeth, which can lead to tooth loss. The ultimate goal of the periodontist is to preserve teeth by treating problems of the gum, tooth roots or bone.
Dental Radiologists
Specializing in oral and maxillofacial radiology, these dentists obtain at least two years of additional training to be able to produce and evaluate images of the structures of the mouth and teeth. They often perform work ordered by general or other dentists.
Dental Pathologists
Dental pathologists work in the field of oral and maxillofacial pathology. They discern facts about dental-related diseases by using the microscope, clinical examination, radiology and other means. They are the detectives of the dentistry world, seeking answers to patient symptoms such as pain, infection and inflammation. They may guide treatment of patients with complex disease or work in dental research. Dental pathologists have at least two years of specialized training beyond general dentistry.
Public Health Dentists
Public health dentists acquire at least two years of specialty training in the field of public health as it relates to dentistry. They develop community programs and conduct research to determine the best ways to provide dental care to the community. They are especially interested in preventing and controlling dental diseases.
Forensic Dentists
According to the American Board of Forensic Odontology, a forensic dentist assists during autopsies and other forensic situations. They help determine causes of death and the identification of bodies through studying the structures of the teeth.