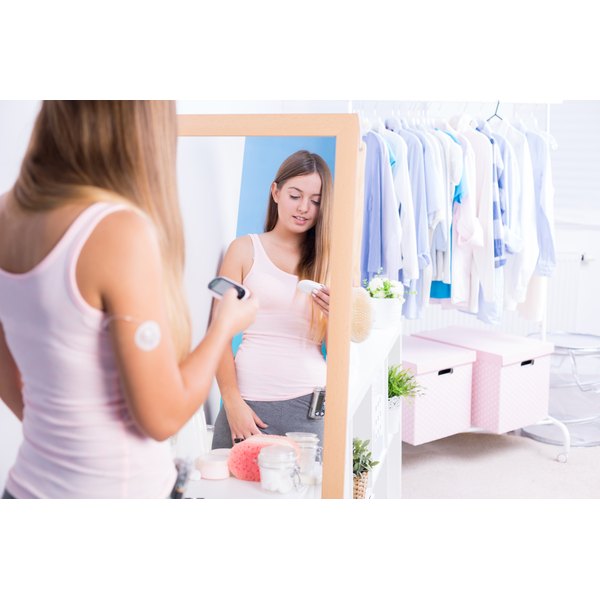 Diabetes is one of the most common diseases among teenagers. According to the 2014 National Diabetes Statistics Report published by the Centers for Disease Control and Prevention, about 208,000 Americans under the age of 20 have diabetes. Most of these youths have type 1 diabetes, though type 2 diabetes -- which historically has been an adult disease -- is becoming more common in young people, particularly in youths age 10 and older. Diabetes is a chronic condition for which there is no cure, but with proper management it need not be an obstacle to a full and productive life. Diabetes presents social and emotional challenges for teens, and knowing where to turn for information and support is crucial for emotional and physical well-being.
Emotional Health Challenges
In a study published in the April 2006 issue of "Pediatrics," more than 2,600 youths with diabetes were screened for depression, and 14 percent of participants reported mild depression symptoms, while 8.6 percent had symptoms of moderate or severe depression. Because of this increased risk, the American Diabetes Association recommends that depression screening start at age 10 in children with diabetes. Other psychological challenges can pose barriers to good health. For instance, some teens with diabetes engage in the dangerous practice of curtailing or withholding insulin as a means to lose weight. An April 2010 review article published in "Adolescent Medicine: State of the Art Reviews" reports an estimated 10 percent of teenage girls with diabetes have eating disorders -- twice the rate of teenagers without diabetes. Teens facing these serious emotional issues benefit from family counseling and support, and they require ongoing screening and care from a mental health professional such as a licensed social worker or psychologist.
Self-Image and Peer Challenges
For teens, the daily self-care involved in diabetes management can be overwhelming and can lead to self-consciousness and fear of rejection. Teens are risk-takers, and despite knowing better, they may choose to not give insulin or not test blood sugar in front of their friends. The fear of potentially embarrassing low blood sugars can also push a teen to keep blood sugars at higher levels. Teenagers with diabetes are not immune to peer pressure with drugs and alcohol, and these substances can cause both high and low blood sugar levels. According to the April 2010 review article published in "Adolescent Medicine: State of the Art Reviews," teens tend to handle these emotional and social challenges better when the family is united, educated about diabetes and supportive. In addition, ongoing contact and support from a mental health professional is important to address issues of peer pressure and social adjustment.
School, Sports and Work Challenges
Diabetes can affect many aspects of a teen's life. Frequent high and low blood sugars or missed school due to illness or doctor appointments can affect school performance and grades. Teens involved in sports may have better blood sugars as a result but face challenges making required adjustments to food intake and insulin dose as well as in preventing exercise-related low blood sugars. Teens who have part-time jobs face additional challenges if their job gets in the way of taking insulin, testing and eating on time. Although schools are required by law to accommodate any child with a health condition, support from parents and the teen's diabetes care team is the real key to success. This team includes a dietitian and diabetes educator who can coach the teen on adjusting food and insulin for challenging situations, as well as how to perform at his full potential in school, at work and on the athletic field.
Next Steps and Cautions
Well-controlled diabetes doesn't have to get in the way of living a full and active life. However, the teenage years are challenging, and teens face many barriers to the self-care necessary to achieve target blood sugar levels. Teens need support from family and friends, and they should see their doctor and diabetes care team if they are struggling. Signs a teen needs help with emotional and social issues or diabetes care include rapid or ongoing weight loss, worsening blood sugar control, refusal to take insulin or test blood sugar, increasing frustration or sadness, feeling withdrawn or depressed, having conflicts with peers or having trouble at school. Diabetes is a serious and lifelong condition, but with the right support, education and resources, teens can better cope with their challenges and lead a healthy, full life.