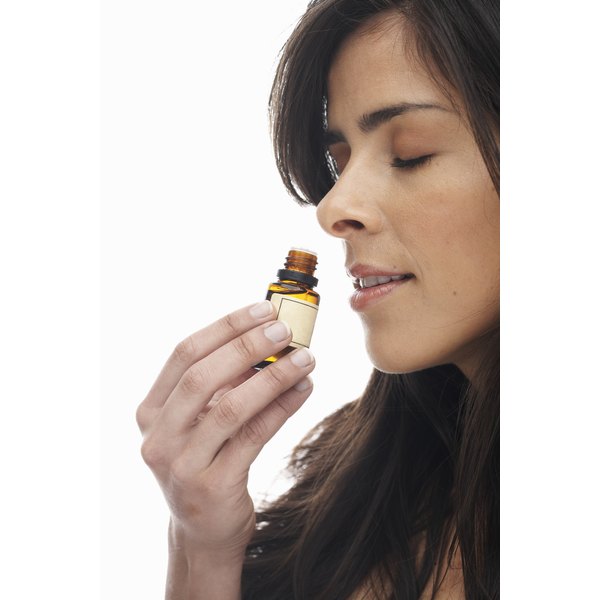 Patchouli is used for natural deodorant because its strong scent effectively masks odors. Making your own deodorant with patchouli is simple enough if you have the right supplies and ingredients. Before beginning, take note that patchouli is a long-lasting and powerful scent that will permeate your clothing and may not disappear after washing. However, many people love the scent so much that this tenacity is not an issue.
What Is Patchouli?
Patchouli oil is extracted from a plant -- Thatis -- native to Indonesia, India and South America. The oil is steam-distilled from the plant's dried leaves. The earthy odor of patchouli has made it useful throughout history. It was an apothecary staple in Asia for thousands of years before finding its way to Europe in the 1800s as a moth repellant for fabrics. More recently, patchouli has been associated with 1960s counterculture.
Buying Patchouli
To make deodorant with patchouli, you need a small bottle of the essential oil. It's important to discern between a true botanical oil and a patchouli perfume product. An essential oil will be labeled as such and usually will cost more than a perfume. Look in health food stores and beauty boutiques. Consider complementing the patchouli with cedarwood, also sold in essential oil form. This traditional pairing is found in many deodorants because cedarwood helps to undercut the strong patchouli scent.
Spray Deodorants
Holistic nutritionist Julia Gabriel, author of "The Green Beauty Guide," suggests two versions of deodorizing sprays. Her recipes include witch hazel and grain alcohol or high-proof vodka as odor neutralizers. Patchouli, tea tree, citronella and lemon essential oils are included in small quantities according to personal preference. A few drops of an emulsifying agent like sucrose laurate keeps the oils and alcohol from separating. You might exchange the grain alcohol for an aluminum-free clay instead. Gabriel points out that a clay like montmorillonite operates as a mild antiperspirant by absorbing sweat. Once mixed, the formula should be poured into a spray bottle.
Solid Deodorants
Deodorant in solid form is convenient, but making it at home is a little more complicated than the liquid type. In addition to patchouli essential oil, you need a base oil that can be melted and transferred into a mold or container to solidify. Consider shea butter, coconut butter or -- in smaller quantities or as a complement -- beeswax. Other ingredients in solid natural deodorants include baking soda, arrowroot powder or simple cornstarch. Gabriel advises using a double boiler or microwave when melting waxes and butters. After mixing in your desired ingredients, pour the formula into a mold or container. You can reuse the containers of commercial deodorants or craft a mold from paper or plastic. Just make sure to spray the mold with vegetable oil to prevent sticking.