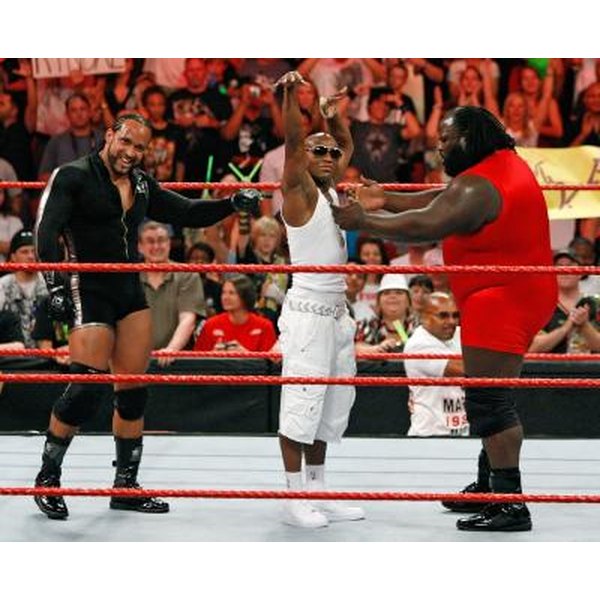 According to WWE.com, World Wrestling Entertainment does not endorse any wrestling schools. If you are interested in becoming a professional wrestler, contact your local state athletic commission to find out about schools in your area. Many wrestling schools are scams so you will need to find a legitimate way to get experience before the WWE will even consider you for any talent positions.
How to Get Into WWE Wrestling Schools
Step 1
Find a school that has been open for at least four years, as most fail within their first year of operating. Just because a school has a big name wrestler associated with it doesn't mean it is legitimate; in fact often the opposite is true. The school should have at least 25 students enrolled and have at least five rings for practice. "The more rings you see the better. Wrestlers don't get better by standing around and waiting their turn. You need thousands of minutes on the mat in order to improve," says Frank Aldridge, owner/operator of WWA4, which was rated the number one school by WrestlingSchools.org. The best way to avoid getting scammed is to go to WrestlingSchools.org, read the criteria and go through the rankings and comments to see whether the school you are considering is legitimate.
Step 2
Seek schools that offer long-term commitments. "Schools who charge big bucks are doing bad business," says Aldridge. Aldridge's school charges $990 dollars for unlimited wrestling over three years. "The students come in when the doors open at 7p.m. and leave when they are exhausted, usually around 10:30 or 11p.m. at night." Besides actual practice time on the mat, the school you choose should provide "showtime" for the wrestlers. This is when the school sets aside time, usually once a week, for the performers to do their routine in full costume, with all their moves and speaking parts, in front of a live audience.
Step 3
Find out how many wrestlers the school has actually put into the WWE or other professional wrestling shows. The main way to get exposed to the WWE is by sending your resume tape to the WWE. Your tape must be of decent quality and you should be demonstrating your best moves and be able to ad lib on a live microphone. The WWE advises that aspiring wrestlers shouldn't even bother sending their tapes unless they have been performing and practicing for at least three to five years.
Step 4
Capture your best work on tape. Most legitimate schools will help you put your tape together if they think you are good enough. "When WWE gets a tape from our trainer here at WWA4, it gets looked at. If you send it on your own, you risk it getting lost in the shuffle, as thousands of tapes are sent their way every day," emphasizes Aldridge.
Step 5
Avoid long commutes to and from schools. If a school is located too far from a major city you risk wasting valuable time commuting when you could be wrestling. Some schools offer affordable long-term accommodation nearby.