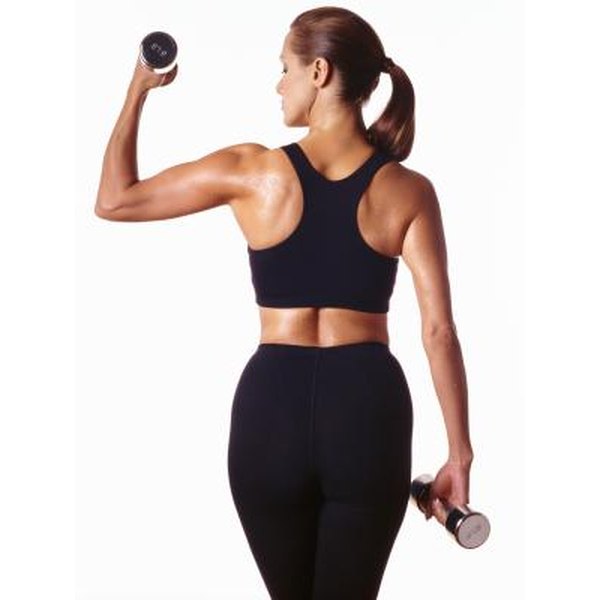 The thought of developing bulky biceps may deter many women from working out their arms. However, the insufficient levels of testosterone in women make it near impossible to get buff like a man, according to BU Today, so fear not. The best way to avoid building bulky muscles is to control your calorie intake and have an effective workout plan that combines strength training and cardiovascular exercise. Lifting weights actually helps you achieve the slimmer, toned physique, because more muscle mass allows your body to burn more calories.
Step 1
Perform a variety of arm workouts. With a set of dumbbells, do reverse flys, bicep curls, dumbbell cross jabs and lying triceps extensions. Aim for three sets of 15 to 20 repetitions. Choose weights that make it difficult to perform a full set, but not impossible to complete. Adjust the weight as required during your training session.
Step 2
Engage in a full-body workout two times a week. You will have to exercise your whole body to get the desired results for your arms. Perform jump lunges for your legs, shoulder presses, weighted situps for abdominal strength, chest flys and lat pulldowns for the back. Perform two or three sets of each for your strength training regimen.
Step 3
Perform moderate to intense cardiovascular exercises three times a week. Use a rowing machine or stationary bike for cardio, rather than jogging. These exercise machines give an element of resistance to your cardio and help you maintain your muscles from your strength-training sessions.