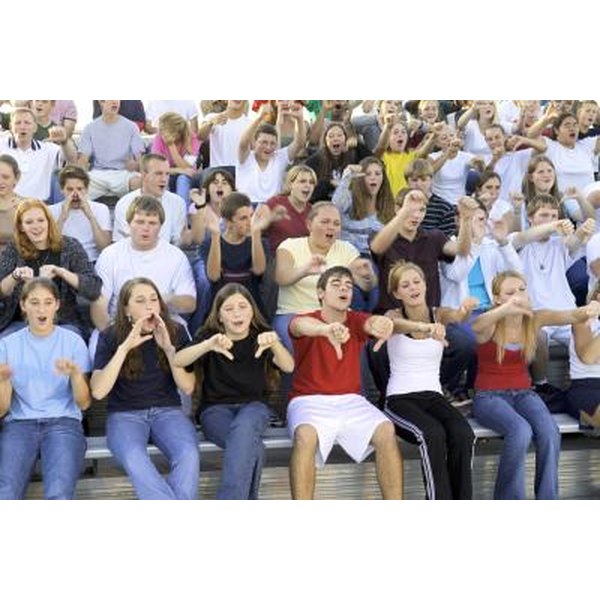 The World Wrestling Entertainment (WWE) promotion company is the largest and most widely-watching professional wrestling organization in the United States. With a history that reaches back to the 1960s, the company has promoted wrestlers for decades that have achieved household name status: Andre the Giant, Jesse Ventura, Hulk Hogan, "Stone Cold" Steve Austin and The Rock are just a few. Live events take place all over the country, and are an exciting way for fans to connect to their favorite wrestling personalities.
Casual and comfortable
WWE events are typically held in large arenas and civic auditoriums, with crowds ranging from 25,000 to 70,000. Like a rock concert or a basketball game, seats are close together and fans are raucous and active throughout the event. Even fans with front-row seats near the entryway barricades and the ring are expected to be on their feet and cheering loudly for much of the event. Therefore, the best policy is to dress comfortably and not too warmly. T-shirts and jeans or shorts are considered appropriate attire.
Souvenir Apparel
As with a rock concert or sporting event, apparel is for sale in the concession areas of the arena. Many fans prefer to purchase their WWE-branded gear at the event as a souvenir of their attendance. T-shirts with logos and phrases of famous wrestlers are hot items, as are any hats or shirts marking the occasion of a special event, such as WrestleMania.
Fan Apparel
Because prices can be higher than normal at the event itself, many hardcore WWE fans will buy their T-shirt, hat, sweatband and even shoes ahead of time. The WWE store stocks the latest official merchandise, while clothing resellers and thrift stores often carry vintage WWE items. For fans with seats near the ring or walkway barricades, homemade shirts with clever slogans are a way to try to get noticed by the television cameras.
Signage and Face Paint
While not strictly clothing, a big part of many WWE fans' experience is bringing a sign to the event. The signs may encourage the fan's favorite wrestler or taunt the fan's love-to-hate villain. Due to arena security policies, the safest signs are always a simple piece of cardboard with no wooden stick or other attachment. Face paint is also a fun way to dress up, especially to show support for wrestlers who wear face paint in the ring such as Goldust and Undertaker.