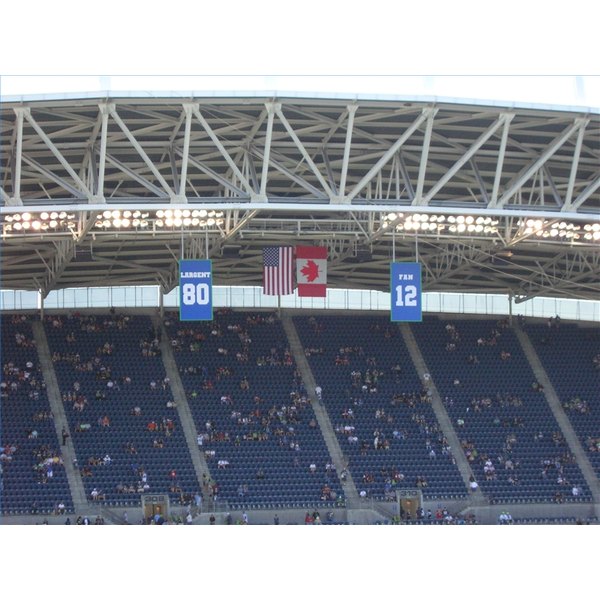 Football games can be extremely entertaining even if you aren't a big fan. The cheering, fun, food and drinks only can be enhanced by an outfit that complements the event. There are a variety of strategies for dressing up for a nosebleed or fancy box seat with a group of die-hard fans.
Fun and Free
When going to a game with some casual fans, friends or on a date, a simple supportive outfit for the home team will suffice. If you aren't rooting for a particular team, but your group does, find out from about the team's colors.
A T-shirt, sweatshirt or jacket in a solid color works well. For example, if you are going to see the Minnesota Vikings, a purple sweatshirt will show your support. To take it a step further, go to the NFL website or a local sporting goods store and purchase the team's hat, shirt and armbands. If you're on a budget, check out a thrift store for appropriate colors. If it is not, feel free to buy the .
Box Seat
If you have a premium box seat ticket, the "fun and free" outfit may still be appropriate. Check with the people attending the event with you. If the game attire seems more formal, you can be creative with your team support. Men can wear team cufflinks, tie or hat. Women can wear the team's earrings, bandana or ascarf. Or wear one team item like a pair of socks that you can show off from time to time to keep you both formal and supportive.
Die-Hard Fans
If you are attending the game with extremely supportive fans, you have many options. All the rules of "fun and free" apply. If you want to go all out, spray your hair with temporary hair color. For example, an Oakland Raiders fan might spray his silver.
The biggest fans even apply face or body paint from a Halloween or party store. A big group might each paint an individual letter of their team on their upper torso. For example, five Philadelphia Eagles fans could spell out E-A-G-L-E-S.
If you are going with die-hard fans don't wish to dress up, look up the colors for the opposing team. Make sure not to dress up in those colors so you won't be ostracized for unintentionally supporting the other team.