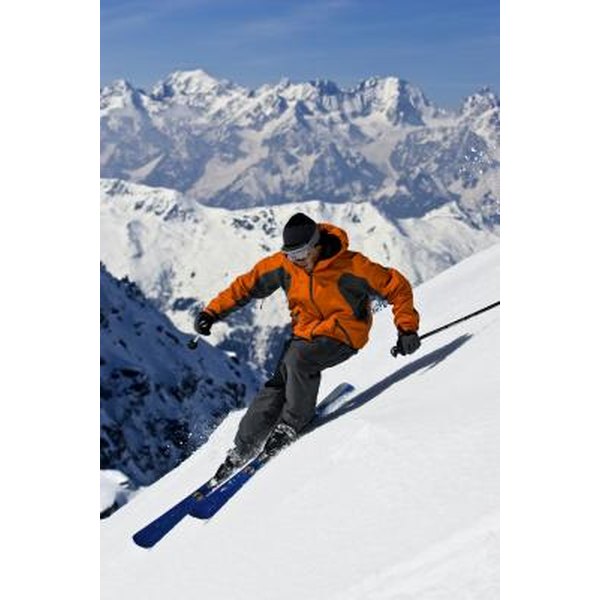 Enhance your skiing performance by regularly waxing the base of your skis. Whether you ski for pleasure or professionally, waxing protects your skis from damage caused in cold and warm temperatures. It also reduces friction, which enables you to more effortlessly glide on the snow with your skis. Wax your skis before every ski season or after every five ski outings if you don't regularly ski. By using hot ski wax, an iron and a vise to wax your skis on your own, you can avoid having them serviced at expensive ski resorts.
Step 1
Place your ski with the base facing you in a ski vise. Move a plastic scraper over the base to scrape away dirt and any dust particles that are clinging to it.
Step 2
Switch on the ski waxing iron and adjust the temperature to 248 degrees Fahrenheit. That is the temperature at which the general-purpose hot ski wax will melt.
Step 3
Hold the iron vertically at least seven inches above the ski. Hold the block of ski wax against the tip of the heated iron so that the wax melts and drips from the iron directly onto the ski.
Step 4
Move the iron in a slow circular motion across the length of the ski base to cover the entire area with the melted wax.
Step 5
Position the iron at one end of the ski base. Move it steadily across the length of the ski to evenly spread the wax over ski base. Do not allow the iron to sit stationary on any one section of the base because that can greatly damage your skis. Instead, move the iron back and forth across the ski base.
Step 6
Allow the wax to cool for at least an hour. Place the ski waxing brush on the ski base at a 45-degree angle. Move it back and forth on the surface to scrape off excess wax.