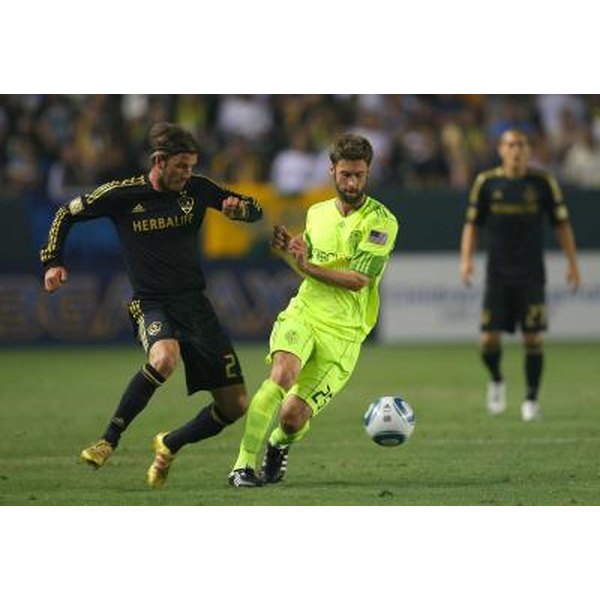 The FIFA World Cup was first played in the United States in 1994. Since then the sport has increased in popularity and Major League Soccer was introduced to the United States nationwide in 1996. As of 2011, there are 18 teams playing in the national league. Soccer is truly an international sport and has a rotating World Cup schedule. American sports fans used to have a hard time watching their favorite team when competitions were held outside the United States. Now, through the Internet, watching soccer online is easy but not always free.
Step 1
Watch live or repeat soccer games for free on ESPN3.com. Click "soccer" from the "all sports" drop down box on the homepage. Search for the game of your choice from either the "live" tab or the "replay" tab. Click the blue link and wait while the website loads your game. It will start automatically after it has been loaded.
Step 2
Subscribe to Match Day Live. Go to the video tab on MLSsoccer.com. Select "MatchDay Live." Click "Sign up Now!" and follow the steps to enter requested information and register for this paid online soccer television service. Pay $59.99 to watch over 220 live MLS games on your computer or iPad. You can watch repeat games on your computer only.
Step 3
Go to Socceronlinehub.com. Click "watch live soccer online free." Scroll down the page to view a list of all games currently being aired. Click the game of your choice. A list will appear that contains links to websites currently streaming the game. The links will appear in a "Link#1" format. You may need to register for a certain site or download video player software depending on which link you choose. Click a link with an "F" icon beside it if your computer already has Flash Media enabled. Sit through any advertisements that appear. The soccer match will air or stream live after the ads run.