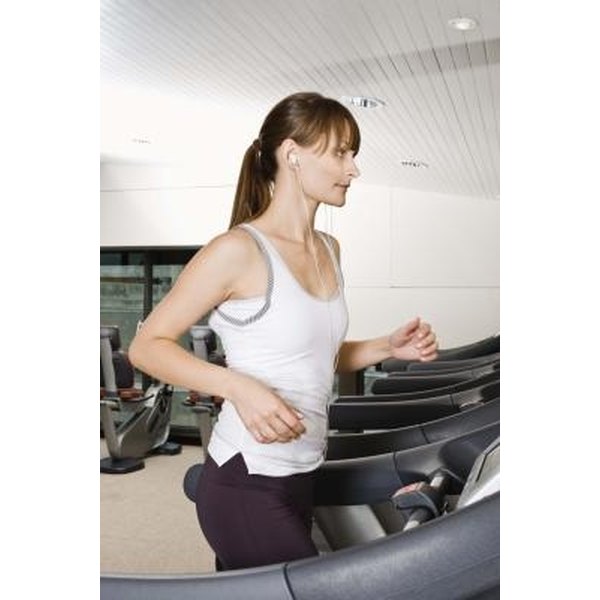 The NordicTrack EXP 1000I is a treadmill with a water bottle holder, book holder, hand weight holder, electronic control panel, pulse sensor, key clip, cushioned walking platform, foot rail and safety key. The treadmill is designed for use in a fitness center or home gym environment and is sold in many fitness or gym equipment stores, as well as online. Problems that might occur with the treadmill may be remedied with some troubleshooting efforts by the user.
Check the power cord on the treadmill and connect it to a functional, grounded power outlet if the treadmill is not working. Examine the "Reset/Off" switch on the base of the treadmill and reset it after five minutes if the switch has been tripped.
Leave the safety key in the console if the incline is not adjusting or does not change during "iFIT" or when videos are played on the display. Press an incline button and pull out the safety key while the incline is moving. Re-insert the key after a few seconds.
Disconnect power to the treadmill if the walking belt is slipping or not moving as expected during use. Turn the rear roller adjustment bolts on the bottom rear of the walking rails ¼ turn counterclockwise using the included Allen wrench. Check the belt by pulling up on it on each side. Lifting the belt 3 to 4 inches off the treadmill indicates a proper tension. If the belt lifts 3 to 4 inches, restore power to the machine. If the belt does not lift up at least 3 inches, repeat the adjustment steps as necessary until it can be lifted properly.
Wipe down the heart rate sensor if the sensor does not produce accurate heart rate readings. Wipe your hands as well. Dry the sensor and try again.
Contact NordicTrack for additional information or service if your troubleshooting efforts do not resolve the problem at 877-993-7999.