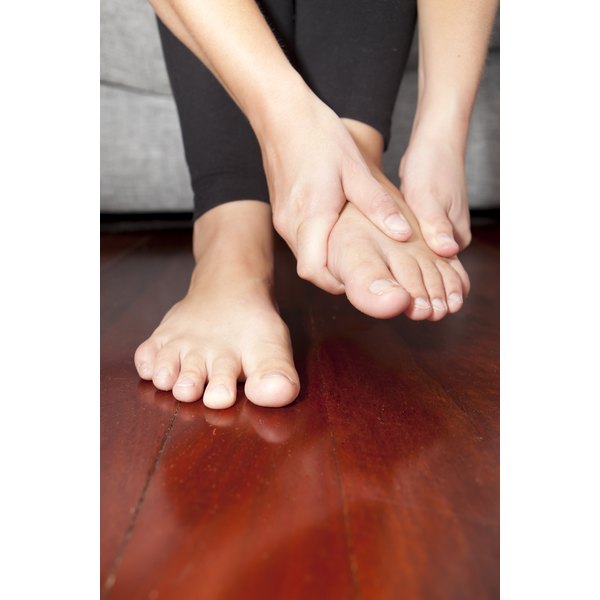 Neuropathy in the feet is caused by nerve damage and is seen frequently in diabetic patients. It may also be caused by vitamin deficiencies and alcoholism. Neuropathy causes numbness, burning and pain in the feet. Neuropathy in the feet may also cause difficulty walking. You need to see your doctor so he can determine the cause and extent of your condition. Your doctor may refer you to a neurologist, who specializes in neurological conditions, or a podiatrist. There are steps you can take with your doctor to treat neuropathy.
Step 1
See your doctor. You need to get a complete physical examination to determine the cause of the neuropathy in your feet. Treatment will be based on what is causing your neuropathy.
Step 2
Take a pain reliever. Taking an over the counter pain relief medication can help ease your discomfort. Talk to your doctor before taking pain medication. If your neuropathy pain is severe, your doctor may recommend prescription pain medication.
Step 3
Take your diabetic medication. Neuropathy in the feet is frequently related to diabetes. If your neuropathy is caused by diabetes, it is important that you consistently take your medication. Taking your diabetic medication will keep your diabetes under control and may delay the progression of your neuropathy.
Step 4
Inquire about antidepressants. Ask your doctor about antidepressant medication. Tricyclic antidepressants are frequently helpful for neuropathic foot pain. Antidepressants can cause significant side effects, so you should extensively discuss this option with your doctor before you start treatment.
Step 5
Follow your diet. If your foot neuropathy is caused by diabetes, following a diabetic diet will help control your blood sugar and may improve your neuropathy. Your doctor can recommend an appropriate diet or he may refer you to a nutritionist or dietitian.