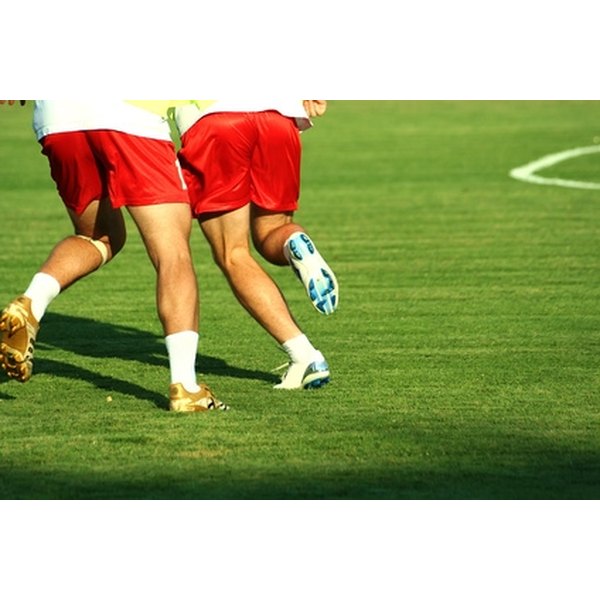 Despite its size, New Jersey--the country's fifth smallest state--boasts competent men's and women's soccer programs throughout its major universities. From large public institutions to elite Ivy League schools, student-athletes have many options for playing soccer in the Garden State.
Monmouth University Hawks
Monmouth University in West Long Branch, New Jersey, has the highest ranked men's soccer team in the state, as of 2010. The Monmouth Hawks play in the Northeast Conference alongside intrastate rivals Fairleigh Dickinson University. As of 2009, the men's soccer team had won five straight NEC regular season championships; the women's team won four straight championships.
In 2010, Monmouth University's men's soccer team was ranked 15th in the NCAA's Division I preseason rankings.It was the only team from New Jersey to appear in the top 25. The women's soccer program ranked 90th in the NCAA's RPI rankings in 2010, second only to Rutgers among women's soccer teams in New Jersey.
Monmouth University
400 Cedar Ave.
West Long Branch, NJ 07764
732-571-3400
monmouth.edu
Rutgers University Scarlet Knights
New Jersey's largest university, Rutgers, is a public research school with three campuses throughout the state. The main campus competes in Division 1 athletics in the Big East Conference. Notably, soccer alumni from Rutgers include Alexei Lalas, Jon Conway and Carli Lloyd.
The Rutgers women's soccer team ranked 17th among Division I schools in the NCAA's 2010 preseason rankings. No other New Jersey universities received votes in the poll. The men's soccer team ranked 84th in RPI rankings in 2010.
Rutgers, The State University of New Jersey
57 U.S. Highway 1
New Brunswick, NJ 08901
732-445-4636
rutgers.edu
Princeton University Tigers
Founded in 1746, Princeton University is one of the oldest and most prestigious colleges in the country. The Princeton Tigers compete in both men's and women's Division 1 soccer. In 2004, Princeton's women's soccer team became the first Ivy League team to appear in the NCAA Final Four.
The men's team from Princeton ranked 27th in the 2010 RPI rankings, just behind Monmouth University. Despite its recent success in the Final Four, the women's team was ranked only 119th in the 2010 RPI rankings.
Princeton University
Princeton, NJ 08544
609-258-3000
princeton.edu
Fairleigh Dickinson Knights
Fairleigh Dickinson is a private university located in Teaneck, New Jersey. During the 2010 preseason, the men's team ranked 124th in the RPI rankings. The women's team was ranked 306th. Alumni from FDU have played for club teams in the United States, Portugal and Ireland.
Fairleigh Dickinson University
1000 River Road
Teaneck, NJ 07666
201-692-2000
fdu.edu