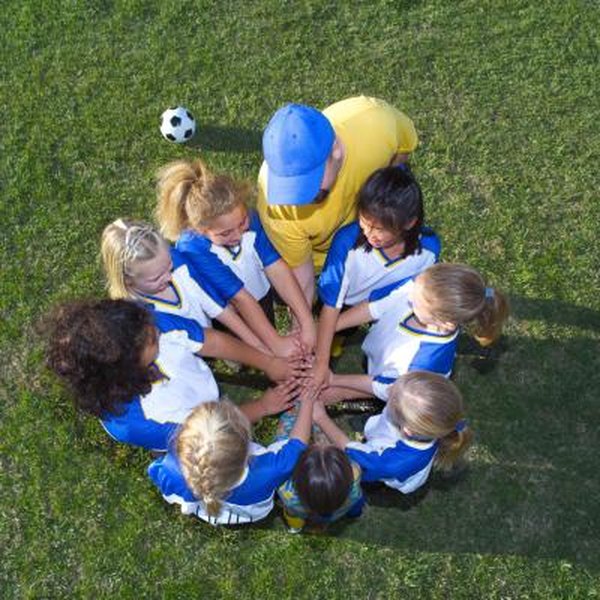 Sports can provide children with a lifetime of benefits, from the encouragement of exercise to the development of interests and hobbies they can carry on into adulthood. Teach kids about sports by emphasizing both the correct techniques and the fun aspects of each sport. Focusing on the final score rather than the learning process, however, can have the opposite of the intended effect and turn kids away from sports entirely.
Start With the Basics
If you're enthusiastic about a sport, it's natural to want to explain everything about it to kids, but consider the age of your audience and its experience with a sport before making things too complicated. Make sure they understand the basic principles before moving onto advanced techniques and strategies -- and make sure they focus on what they can do rather than what they see the professionals do on TV. A team of second-graders playing coach-pitch baseball, for example, should first be taught the basics of fielding a grounder and throwing to first base, rather than how to turn the double play.
Focus on Form
Kids playing a sport for a first time, or who aren't experienced in that activity, need you to show them the right way to play. When teaching them how to play, spend the time to walk them through the fundamentals so everyone understands what they're supposed to do. For example, when teaching children how to hit a baseball, having them hit off a batting tee helps them work on the mechanics of the swing in a situation where the ball is stationary. Even Major League hitters use batting tees to hone their craft.
Encourage as You Teach
Children look to their parents and coaches for reassurance that they are doing a good job. Particularly if it's a skill that they've had trouble mastering, let them know you've noticed their progress. A child who has struggled to hit in games, for example, should be praised when he makes contact, even if it results in an out. Any suggestion for what needs improvement should be interspersed with praise. Tell kids what they did well, then suggest what they can do better and close with another dose of encouragement. That helps kids learn with confidence and keeps them from getting discouraged.
Competition, Not Winning
Parents and coaches might hope that their kids' teams win a lot more than they lose, but letting the children sense that attitude can turn them off. Teach kids about the importance of competition and of trying their best each game. Don't, however, focus on the results once the game is over. Instead, use postgame comments to praise examples of the players' skills development. Getting kids enthusiastic about sports is made easier when they leave the field pleased with their coaches' and parents' assessments of how they played and what they did well, rather than whether they won or lost.
Don't Forget Sportsmanship
Model appropriate behavior to ensure that kids respect the game and treat their teammates, opponents and officials the right way. Don't complain when a referee or umpire misses a call, whether it's in a youth league game or watching sports on TV. Don't encourage your players to stretch the rules in order to win or make fun of the other team if they make a mistake. Instead, get them involved in helping their teammates. At practice, encourage the more developed players to help those still learning a particular skill. In games, have the players on the bench cheer for those in the game. That models the sportsmanship they'll be expected to show as their athletic careers develop.