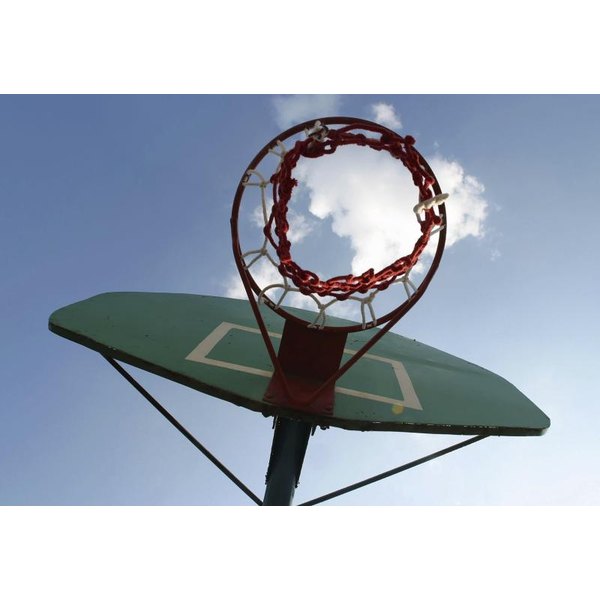 Running a successful basketball camp requires a considerable amount of planning and prep work, but when done appropriately, you'll likely be offering many young athletes their favorite experience of the summer break. In addition to planning drills and games, you'll need to rent or acquire facilities and equipment; recruit and hire staff members; ensure you're covered in case emergency situations arise; and effectively market your camp.
Facilities and Equipment
Figuring out where you're going to hold your camp is job one. The facilities you use should reflect the age and level of your campers and how many campers you hope to recruit. For athletes in high school, an inside facility where drills and training can be more precise is ideal. You can opt for renting a private gym or a gym from a local school. As long as your camp is held during the daytime, you may be able to find a collection of outdoor courts that is available to rent for younger kids. Be sure that the facility you choose has restrooms available.
To keep your camp organized, you'll need to acquire whistles for you and every staff member, a stopwatch, clipboards to hold schedules and rosters, pens and pencils, basketballs, a pump and needle to inflate basketballs, cones and practice jerseys. Determine the amount of each item you need based on the number of campers and staff members there are, as well as the drills and games you schedule.
Hiring Staff
The success of your camp highly depends on the quality of staff that you assemble. The staff, or camp counselors, will be the face of your camp most of the time. If your camp is targeted to middle or high school athletes, consider reaching out to nearby college basketball players, while high school players can serve as quality camp counselors in a camp focused on younger kids. Your staff members should be experienced round ball players who can demonstrate the skills to campers. They need to be both responsible and friendly with their charges.
Food and Water
Most camps ask each camper to bring a bagged lunch, but if your camp is going to consist of long days, you may choose to offer lunch services. If so, you'll want to schedule delivery from nearby restaurants ahead of time and to incorporate this additional cost into the fee for the camp. While most campers will bring bottled water, it's imperative that you have water available. Acquire a large water cooler and have a staff member keep it filled throughout the day.
Insurance and Camp Safety
If you're not running your camp through a recreation center or gym, you will have to purchase liability insurance, preferably from companies that specialize in insuring events for youth sports. In addition, be sure you have a first-aid kid available and that you go over emergency procedures with your staff to ensure they know what to do in case of a fire or serious injury. Have each camper's emergency contact information readily available.
Marketing Your Camp
Market your camp effectively for success. To get the word out, create fliers and share them with schools and city athletic teams; post them at local gyms. Make sure your fliers include the location, time, targeted age group, a list of possible speakers and activities and the contact info for anybody who has questions. Take out an ad in the sports section of your local newspaper. Create a website that features information about your camp, a way to register to participate online, as well as all forms available to download.
Lay Out a Schedule
Your camp schedule should include time allotted for practice drills, competitive games and breaks. Begin every day with a dynamic warm-up by having the campers run a couple of laps. Next, take them through an array of drills. Organizing your drills into circuits works well in camps because it keeps the kids from standing around too long. Assign an area for ball handling, for passing, for shooting and for defensive drills throughout the setup, with each station being led by a staff member. Follow up the drills with one-on-one and hot shot contests. End the day with competitive games, such as three-on-three or five-on-five matchups. Fit in regular breaks and at least 30 minutes for lunch. Print every day's schedule out for each staff member and go over the schedule every morning before the day's activities begin.