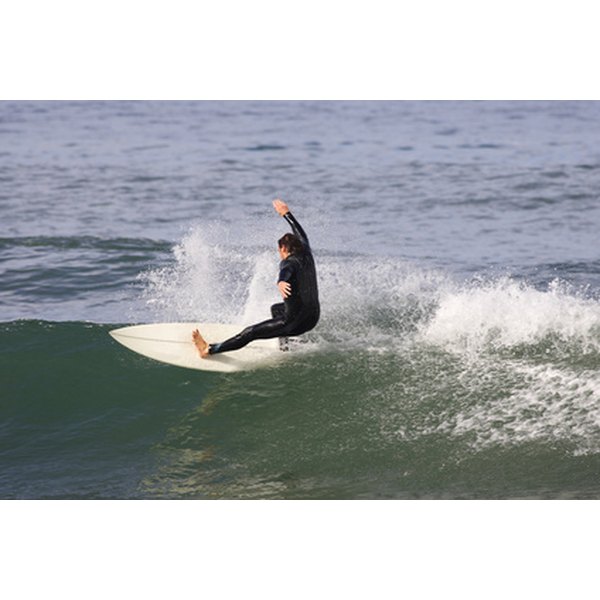 Quicksilver, Inc. is a company that sells men and women's apparel and accessories, which are sold at malls and sports retail shops. Their brands include Quicksilver, Roxy, Private Surf, Que and Raisins labels. Their brands are popular among surfers, skateboarders and other sports enthusiasts, as well as those who enjoy an athletic fashion style. The company has also gained recognition in the sporting world through the events it sponsors, such as Quicksilver Radar and Quicksilver Pro. Kelly Slater and Stephanie Gilmore are among the professional athletes that Quicksilver sponsors.
Step 1
Develop your skills in one of the three sports that Quicksilver focuses on, by constantly practicing it. Quicksilver's main sports include surfing, skateboarding and snow sports. Quicksilver looks for talent in these areas, and you will increase your chances of being sponsored if you focus on any of these sports. You will also meet athletes with whom you can practice to achieve a high level of competence in the sport, or you may even get lucky and meet a professional athlete. Skill in the sport the most important attribute to have in order to gain sponsorship, because you will be representing the brand.
Step 2
Gain publicity by winning contests in either one of the three sports that Quicksilver focuses on. Talent scouts from Quicksilver attend competitions and other sporting events, and getting recognition in these events will help you attract the attention of a talent scout who may be in the audience. Winning contests will also help you establish a track record of achievement in that particular sport, which can help you gain an advantage when you apply to contests. You can also gain publicity by being featured in local newspapers.
Step 3
Create a website or blog to show your dedication to the sport. A website or blog can be used as a marketing tool to present yourself online. Being active online in sports forums will help you obtain followers, which can increase your profile in the surfing, skateboarding or snow sports community. Additionally, having an online presence allows others to find you quickly, especially those individuals you meet at networking and sporting events. You can also use your blog to interact with Quicksilver online, especially on the Mountain and Wave blog on the Quicksilver website.
Step 4
Contact Quicksilver to ask them about sponsorship-related events and contests. Quicksilver runs various contests, ranging from winning Quicksilver products to getting access to events, to even gaining sponsorship. These contests may require you to send pictures or videos of you playing the sport. Follow up with the corporate office to ask about updates regarding contest winners and current opportunities. You can also use a side door to the company, by targeting their lesser known brands such as Que and Raisins.
Step 5
Network with industry insiders to find a talent scout. Get to know people in the industry, from shop owners to event organizers to sports coaches. These people are knowledgeable about the industry and they may be able to connect you with a talent scout. As Pat O'Donnell says on Surfline, an online community of surfers, his first sponsor was a local surfboard shop before he entered a contest and gained sponsorship from a clothing manufacturer.