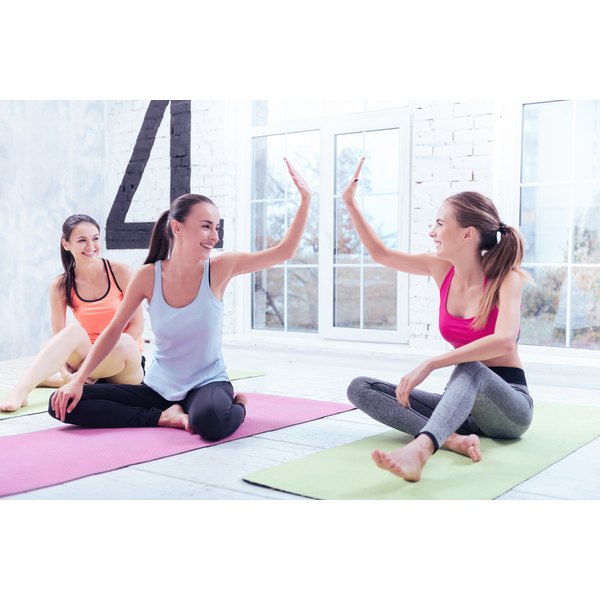 We've heard all the excuses (and made some of them ourselves). "I'm too busy." "I can't afford the gym." "I'm bored of the treadmill." But really, all of these translate to some variation of "Not today." "Everyone has their reason why not," says Rachel Cosgrove, author of "The Female Body Breakthrough," owner of Results Fitness and columnist for Women's Health magazine. "So it's about trying to find that motivation. What's going to drive you to get your workout done." So, for the best results to tame the slacker in you, create a simple, realistic guide to getting active today.
Get Out a Pair of Jeans
"Pull out the jeans that don't button anymore," Cosgrove says. "The ones in your closet that every woman has." They're a great indicator of where you're at, since your weight isn't necessarily the best measure of your progress. If you're strength training, for example, your weight may go up because you're building muscle. Fitting into jeans that were previously too tight is one way you can see the difference. "The results don't always show up on the scale," Cosgrove explains.
Make a Behavioral Goal
Instead of focusing on where you want to be, focus on how you're going to get there. Cosgrove recommends "behavioral goals" rather than "outcome goals." With an outcome goal, you focus on what you're trying to accomplish, such as losing a certain amount of weight. A behavioral goal is something actionable you can do right now. You can't lose 10 pounds tomorrow, but you can get up and go on a walk.
Start Small
This isn't the time to bite off more than you can chew. Instead of overcommitting yourself, find something that is practical, doable and, most important, something you know you will follow through on. Cosgrove suggests starting small, such as committing to exercising two days a week for 30 minutes. "Have that sense of accomplishment, feel a little better and maybe set a bit more of a difficult goal the next week," she advises.
Make a Date
Schedule "you" time. Start penciling "exercise" into your planner so you can anticipate and look forward to this brief break in your busy life. If you find yourself dreading your workout, focus on knowing that you'll be done in just a few minutes. Better yet, try to reframe this as your "distraction-free" respite -- a date with yourself.
Use What You Already Have
Not ready to hit the gym just yet? Getting off the couch is one step in the right direction. "It really doesn't take a whole lot of effort to get yourself going in an exercise program. Right away you can get yourself started with your body weight in your living room," Cosgrove says. "There are a ton of really great body weight exercises. Squats, lunges, pushups -- those are all great exercises to use at home."
Change Your Environment
Get up, get moving and get out of the house. "When the couch is right there, it's hard to get off of it or not sit back down," Cosgrove says. "You've got to completely shake things up." While the living room is a safe place to start, at some point it can get in the way of your exercise goals, so avoid the distractions at home and head for a different locale.
Find a Gym That Fits
If you don't enjoy the environment, you won't want to go back. Gyms shouldn't be intimidating -- if Mr. Joe Benchpress' grunting or Ms. Crop Top's sprinting makes you feel anything less than welcome, it's time to re-evaluate your gym relationship. Cosgrove suggests looking for an all-female gym or hunting through reviews to find the right fit. Similarly, if the gym is out of your way, the distance is going to be one more excuse you give yourself.
Form a Support System
Don't go at it alone. "Have other women who are like you, that don't like to exercise but are there doing it," Cosgrove says. "It motivates you, it inspires you and it helps you to come back the next day." Committing to a support system helps you feel accountable, and the sense of community from like-minded women will provide motivation when you can't muster any on your own.
Change Up Your Routine
Keep your workout fresh. "It is really a cycle," Cosgrove says. "Once you start the first step, once you do that first workout and eat healthfully that first day, it makes it easier the next day to do it again." If you find yourself getting tired of your routine, spice things up and try something different. Set a new goal and get your momentum going again, so you don't risk falling out of your exercise cycle.
Keep Setting New Goals
Remember why you got off the couch in the first place. If your jeans finally fit, find a new goal. "Think about why you are doing it," Cosgrove says. "You do need to have that really powerful reason why." On the days you'd rather skip the gym and stay in bed, revisit this reason. "Remind yourself how you feel at the end of the workout. You're always glad you did it," Cosgrove says. "You never regret a workout."