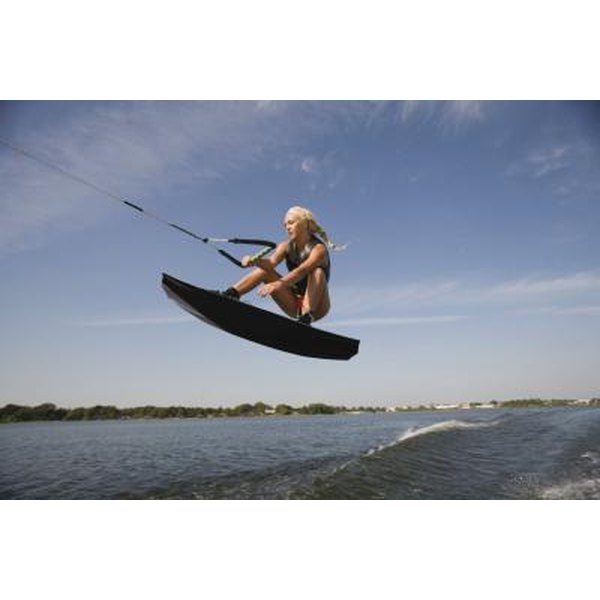 Proper sizing of a wakeboard depends on the rider's weight, experience level and wakeboarding style. The rider's weight is a crucial factor in determining the size of the board. The wakeboard must properly support your weight for adequate floatation. Wakeboard sizing charts provide ranges of wakeboard lengths for various weights, with length measurements in centimeters. Incorrect sizing can cause lack of control or lower mobility on the wakeboard.
Factoring in Weight
The wakeboard should be long enough to support the rider's weight properly, but bigger isn't always better. Longer boards can affect maneuverability. Stick with the recommended length range for your weight. Individuals under 100 pounds should ride a wakeboard less than 130 cm. The recommended range for those 90 to 150 pounds is 130 to 134 cm. Riders weighing in between 130 to 180 pounds should ride a board 135 to 139 cm. The recommendation for 170 to 250 pounds is 140 to 144 cm. Individuals weighing more than 200 pounds need a board longer than 144 cm.
Considering Multiple Users
Height differences between multiple users won't make a difference since height isn't a factor in sizing wakeboards. Weight differences do affect sizing. If more than one person will use the same wakeboard, focus on either the person who uses it the most or the heaviest person in the group. Going longer to accommodate a heavier person may mean lighter users have less control while performing air tricks due to the increased weight of the board.
Going Long
Beginners may feel more comfortable on a wakeboard at the long end of the recommended size range. Greater surface area makes the wakeboard ride well on top of the water. The extra length gives a solid feeling under your feet that makes it easier to learn how to wakeboard. The landings are usually softer on a longer board. The added weight requires more effort to maneuver in the water, but that also means more control.
Going Short
A short wakeboard makes flips and air maneuvers easier, but it comes with drawbacks. Expect hard landings if you choose a board at the short end of the recommended range. Those hard landings are sometimes complicated by the nose of the board dipping down into the water. The smaller surface area can slow the board as it moves across the surface of the water. If the board is too short for your weight, it may sink and make you feel unstable.