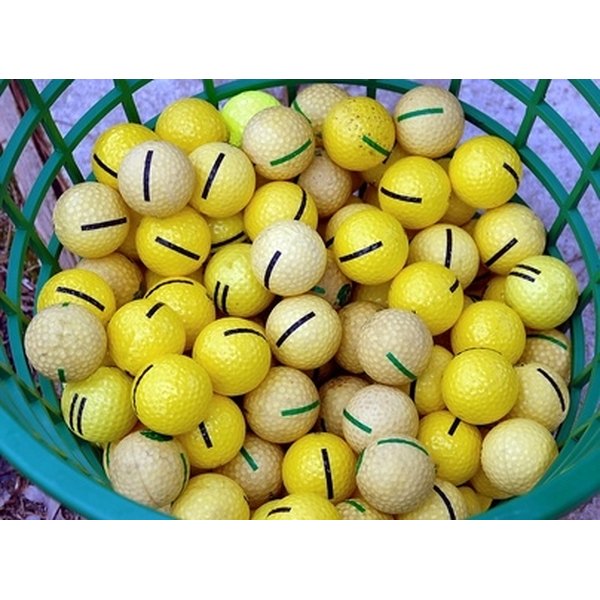 If you've ever played golf, then chances are you've lost a ball or two in the water, woods or mud. Many golfers simply pull out a new ball and continue play rather than getting dirty or wet trying to retrieve a ball. Many times, golf courses hire people to collect the old balls so they can resell them. If you're a golf enthusiast and would like to earn a few extra bucks, selling used golf balls may be the way to go.
Find as many used golf balls as you can. You can collect them while you're out playing golf, or hit the course on off-days or hours when you'll have more time to search. Water hazards typically hold a treasure trove of abandoned balls, many of which are still in pristine condition. A mask and snorkel, or scuba diving gear may come in handy while searching in the water. Look in the muddy areas for balls, as well as in the wooded areas around the course.
Clean all the balls as thoroughly as possible, then inspect and discard any balls that are damaged. Balls with nicks, chips or rotting areas cannot be sold. You can purchase a golf ball washer to easily wash your balls from most golf supply stores, or simply wash them by hand.
Take the balls to local golf courses and inquire about selling them. Many courses resell their found balls, but some may also purchase yours if you offer a fair price. Typically, used balls sell for $1 or less depending on the type of ball and its condition.
Advertise your used golf balls on websites such as Craigslist or eBay. You can sell them by the bucket, pound or per ball at a bargain rate that is sure to attract the attention of golfers wanting to save some money.
Set up a sales stand, or sell balls right out of your car or truck. You can park near a local golf course and set up a sign advertising your sale of used balls. Golfers on their way to play or practice may stop and buy a bucket of balls from you.