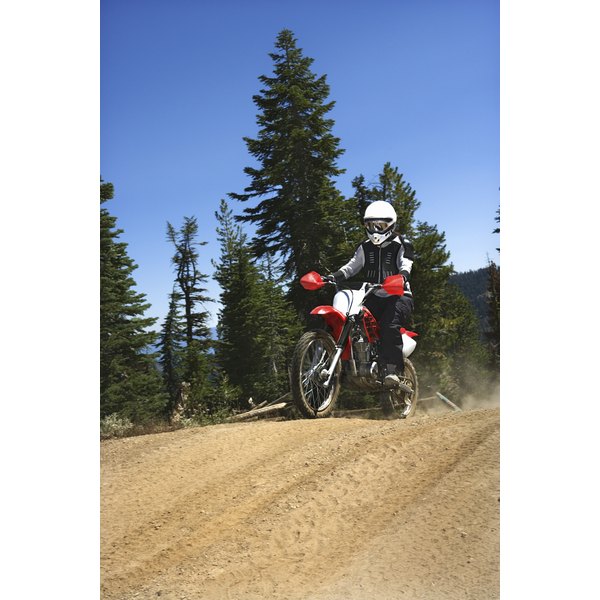 For anyone who loves sports, becoming a professional athlete, and actually making a living doing what you love to do, is the ultimate dream. While some sports, such as basketball, football and baseball, are known for paying fairly large salaries to players, off-road racing can allow a rider to earn a respectable living. As with all sports, the better you are, and the more victories you have during the year, the more money you will make.
Job Description
Off-road racing, often referred to as MX or motocross racing, involves racing a motorcycle on dirt tracks. Motocross has been around as long as motorcycles; however, the sport gained popularity as a full-fledged spectator draw during the latter part of the 20th century. Motocross has two classes of races. The first is the smaller 250 class, which involves 250cc four-stroke motorcycles, or 125cc two-stroke bikes. The second, larger and more competitive class is the 450 class, which requires the rider to use a 450cc four-stroke or a 250cc two-stroke bike. A typical off-road track will have numerous turns, twists and jumps with the first rider to complete the course taking home the prize. As with other types of racing, riders are ranked according to how they place in the various races throughout the season.
Team Salary
Just as with NASCAR or Indy car racing, motocross racers are often part of a team; however, independent riders are still common in off-road racing, unlike its car racing counterpart. If you are a member of a team, you receive a base salary as well as all your equipment, transportation to races and expenses involved in competing. If you are an independent racer, all your expenses are your responsibility. Off-road racing is considered a spectator sport. According to the U.S. Bureau of Labor Statistics, the median salary for athletes in a spectator sport was $104,470, as of 2010. Ricky Carmichael, arguably the best motocross racer of all time, earned $4.75 million in salary alone in 2006, according to "Sports Illustrated."
Winning
Prize money is awarded to the winners of off-road racing in the same manner as in other racing sports. If you come in first, you receive the most money, second place receives a little less and so on. If you are a member of a team, your team will be awarded the prize money and you will receive a bonus as agreed upon in your contract. If you are an independent rider, then you will be able to keep all your prize money. The amount you receive will depend on the race and where you place. For a racer like Ricky Carmichael, the bonus for a championship race can be as high as one million dollars.
Sponsorship/Endorsement
For many athletes, sponsors and endorsements are where the real money is and off-road racing is no exception. If you develop a winning reputation, sponsors associated with the sport are likely to approach you with offers of sponsorship or endorsement. In some cases, all you are required to do is wear a uniform with their logo on it. In other cases, you may be asked to actively appear in commercials or publicity for a sponsor. Often, the money an athlete makes on endorsements far exceeds what is made from the actual sport itself. Ricky Carmichael is reported to have earned an additional four to five million dollars in endorsement money for the 2006 racing season according to Sports Illustrated.
2016 Salary Information for Athletes and Sports Competitors
Athletes and sports competitors earned a median annual salary of $47,710 in 2016, according to the U.S. Bureau of Labor Statistics. On the low end, athletes and sports competitors earned a 25th percentile salary of $26,390, meaning 75 percent earned more than this amount. The 75th percentile salary is $95,290, meaning 25 percent earn more. In 2016, 11,800 people were employed in the U.S. as athletes and sports competitors.