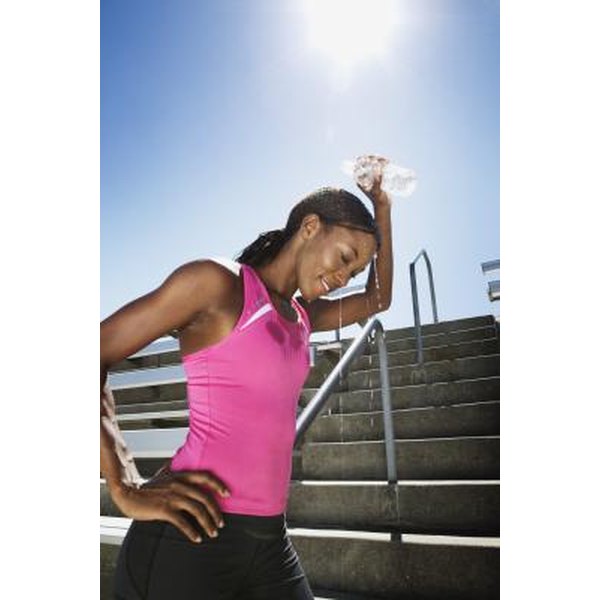 Running is effective for improving endurance and cardiovascular health, but its benefits also extend to your bones. It helps to prevent bone-density loss that can result in osteoporosis, a disease that can cause fragile bones to fracture. It is important to understand how you can work running into your fitness program in order to improve bone density, and what to expect from starting a running routine.
Benefits
Any exercise that makes your muscles work against gravity is considered a weight-bearing exercise, and these types of exercises help to build your bone density. According to the University of Arizona Bone Builders, weight-bearing exercises are effective for improving bone density because your bones are built up when pulled on by muscle. A 1992 study at the Department of Rheumatology at University Hospital in Switzerland found that bone loss was more pronounced in runners who decreased their running habits over a five-year period, and that running can decrease bone density loss that occurs with age.
Getting Started
To prevent bone-density loss later in life, it is best to build up bone density before 30 years of age, according to the University of Arizona Bone Builders. "Fitness" magazine recommends starting to run for 20 minutes at a time three times a week, and gradually increasing the length of time and frequency of your runs. Be sure to add a warm-up and cool-down period of brisk walking to prevent injury.
Variety
The University of Arizona Bone Builders indicates that your bone density will see the most improvement if you include several different weight-bearing exercises in your routine. In addition to running, you can also lift weights and participate in activities such as hiking or dancing in order to build bone density.
Recommendations
Although running is a versatile exercise regardless of age or fitness level, be sure to talk to your doctor before starting a regular running program to make sure it's the best fitness option for your health situation. You should especially consult your doctor if you are already experiencing bone-density loss, in order to ensure you do not put yourself at risk of injury by completing weight-bearing exercises.