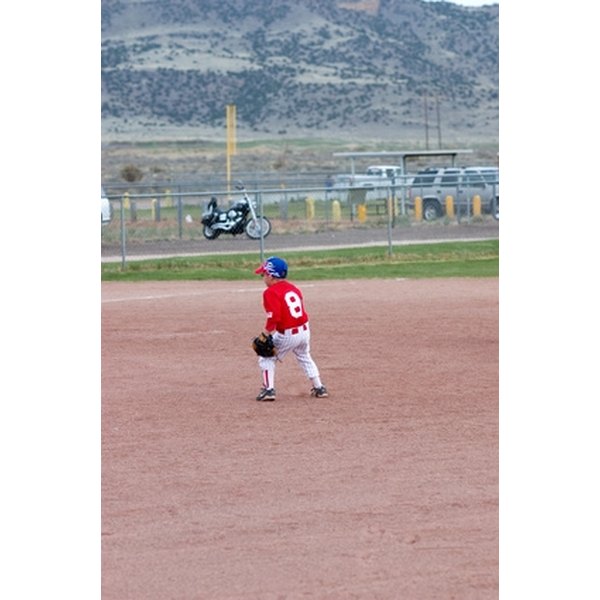 Cal Ripken Baseball is a division of the Babe Ruth League of organized youth baseball. It is owned by and named for former Baltimore Orioles shortstop Cal Ripken. The league has four levels: T-Ball, Rookie, Minor and Major. It accommodates players from 4 to 12 years of age with various levels of previous experience. Each season ends with a Cal Ripken World Series, which invites teams of under-12 players from around the world to compete. Cal Ripken Baseball is played by the official rules of baseball, with a few modification.
Field Dimensions
For Majors 70, the highest level of competition, the primary change is that bases are placed 70 feet apart. The pitcher's mound is 50 feet from home plate and the pitching rubber is 8 inches above the ground. For Minors and Rookies, the outfield fences cannot be more than 200 feet from home plate. Bases are 60 feet apart. The pitcher's mound is 46 feet from home plate and is 6 inches above the ground. T-Ball and Coach Pitch set bases 45 to 50 feet apart and the outfield fences are brought in to 150 to 175 feet.
Bats
Cal Ripken Baseball leagues use bats that are restricted in length and diameter. The current standard, as of June 2010, is 33 inches in length and 2-1/4 inches in diameter. The rules do not specify wood or metal bats.
Pitching
Cal Ripken pitchers are limited to six innings each calendar week. Any time three innings or more are pitched in a single game, a pitcher is required to rest for two full days before pitching again.
Game Length
Rookies, Minors and Majors play six innings per game, with four innings required to post an official game. The length of T-Ball and Coach Pitch games is set at the discretion of local leagues, but it is commonly four to five innings.
Miscellaneous Rule Changes
Substitutions: Players are allowed to re-enter the game after being subbed out. Base running: Players on base are not allowed to lead off. They must maintain contact with the base until the pitched ball reaches the batter. In addition, base runners are prohibited from initiating "malicious" contact with fielders while running the basepaths. Third strike: Runners cannot advance to first on a dropped third strike. Protective gear: Cal Ripken rules require helmets for batters, including those running the base paths. Catchers must wear full gear, which includes a throat protector, helmet with mask and protective athletic cup.