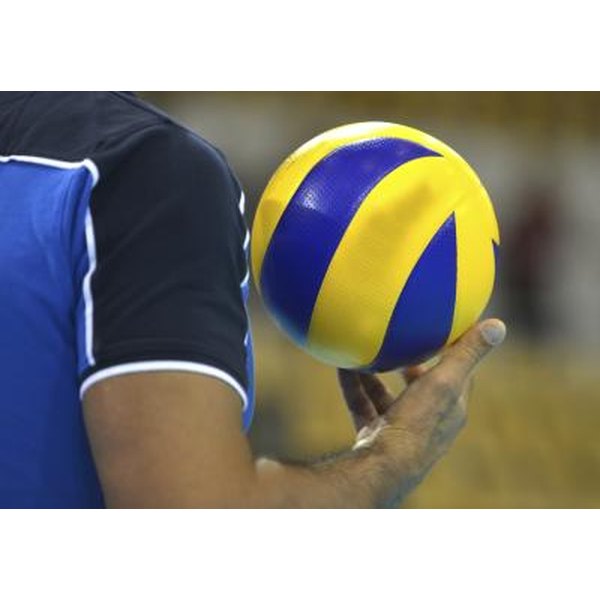 Volleyball offers thousands of college scholarship opportunities, especially on the women's side. Sand volleyball is emerging as a college scholarship sport too. To gain one of these scholarships, you should develop your skills in advanced competition, maximize your physical ability, gain greater exposure to college coaches and promote your abilities when necessary.
Play Club Volleyball
You can earn a college volleyball scholarship after playing on just a high school team. But good club competition helps you improve your skill while giving you additional exposure to college scouts and coaches. This helps you see how you compare with other top players. Potential recruiters can make those comparisons as well. The earlier you start playing club volleyball, the more you can benefit from it.
Attend Volleyball Camps
Top volleyball camps help prospective college players in many ways. These camps develop skills, offer fresh coaching perspectives, create new competitive challenges and help players measure themselves against their peers. The best camps provide exposure to college coaches too.
Maximize Your Physical Ability
An aspiring college volleyball player should design a sport-specific training program to improve her physical ability. Front-row players should tailor their workouts to build vertical leaping ability with weight training and plyometric exercises. Setters and defensive specialists should follow a program designed to improve lateral quickness and agility to improve court coverage. Consult your coaches and sports training experts to tailor your weight room work to your needs.
Assess Your Talent Level
Recruiting goes more smoothly when players understand where they fit into the competitive landscape. Identify comparable players from previous classes and assess the offers they received. Professional scouting services will make that assessment for you, for a price. Consult your club and high school coaches for advice. Understand what coaches at each competitive level are looking for. Use all this analysis to define your expectations and narrow your focus.
Take Care of Academics
Examine the NCAA academic requirements at the start of your high school career so you can map out a course to college eligibility. To receive a Division 1 scholarship, you must meet various core class, grade-point average and entrance examination standards. NCAA Division II schools, NAIA schools and junior college associations have their own academic standards.
Self-Promote
Elite athletes starring in top club programs don't have to do much to promote themselves. Their ability stands out. Top NCAA Division I programs build recruiting networks and identify a very top prospect years before her high school graduation. But most volleyball scholarships are awarded below the Division I level. Those coaches are more likely to rely on recruiting services, view prospect videos and welcome inquiries from prospective players. Identify programs you believe would be a good fit for you and try to contact the coach directly.