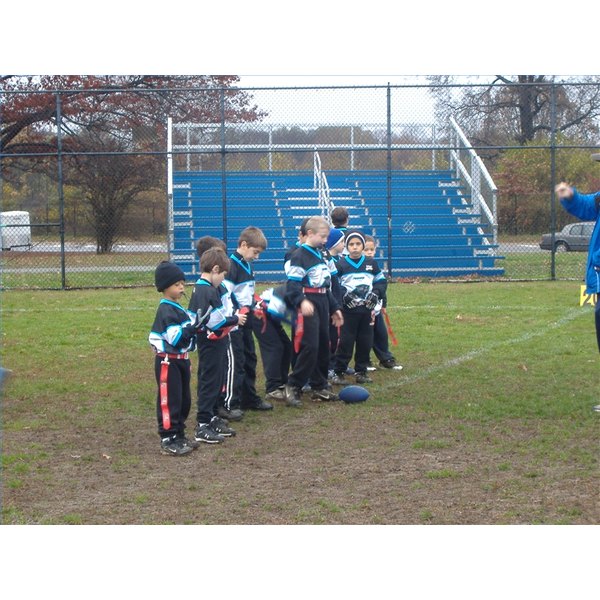 Flag football is a great sport for your children and teenagers to play. It helps to learn the fundamentals of the game of football. And with time your children will be able to move up to a full contact sport of tackle football. I have some great tips on preparing for flag football.
The first step in preparing for flag football is to make sure that your child is interested in the sport. Or that he or she wants to learn how to play. If you force your child to do something that they might not want to do,it is not going to make them interested in the sport. And you may just end up spending money for no good reason. So make sure that the child is interested in wanting to play.
Ask parents in your child's school if they have their children on a league, and continue to find out about their experience with that league. Your neighborhood local paper may have a article on a league in the area. Then call the league and find out when registration is.
When you go down to sign up your child for flag football, you should take your child with you. Also before the season starts most leagues usually have a pre-season training camp going on. You should be able to have your child go to camp without being registered , and by the time camp is over your child would be able to make a better decision on whether he/she wants to join the league.
Now that you and your child have decided to join a flag football league you will need to get some key gear/equipment for your child to be able to play safe and effectively. If you have a boy playing flag football he will need to wear a cup to protect himself. The rest of the stuff that your child will need is for a boy or girl. Foam knee pads and also the foam elbow and forearm pads. They will also need cleats, make sure no spiked cleats ( so the kids won't get injured). And they will need to wear a mouth piece.
The league will provide a jersey and sweatpants or flag football pants. They usually give the child everything else that your child will need to be able to play flag football.
The only other time that you will need to buy other clothing for your child will be in the winter time, because the weather gets so cold and you will want to bundle your child better with gloves and extra layers of clothing. So make sure that when you pick out the clothing size from the football league that you get a bigger size, so that you will be able to put clothing underneath the jersey and football pants.