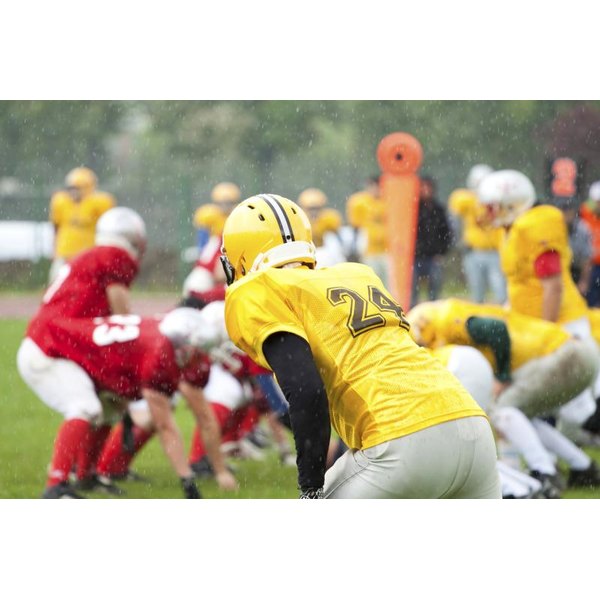 As a player, you know how important it is to be physically prepared for a game. Mental preparation is important, too. Coaches attempt to disguise an offensive or defensive play, confusing the other team. You need to take the time to learn proper play recognition. By learning how to read football plays correctly, you will improve overall game performance.
Discovering the Opponent's Habits
Coaches will run plays that have had previous success. Consistently running the same plays creates habits and tendencies. Become familiar with your opponent's favorite plays, known as go-to plays. Which play will the opponent run on first down? Will the play work as well from the left hash mark as it does from the right? Does a defensive line shift mean a blitz is coming from the opposite side? Tendency recognition hastens reaction time, getting you to the point of attack faster.
Defense: Stopping the Offensive Tricks
Coaches will teach certain keys that lead you to the offensive play, and the defense stops the play successfully. However, you must be aware of a companion play -- one looking like a previous play but that ends up going in the opposite direction. Misdirection and motion plays should always be on your mind. Does motion lead you to the play direction? Linemen and linebackers are always defending against a run play until there is no longer an offensive player behind or beside the quarterback.
Offense: Counter Smoke and Mirrors
Defensive coaches want you to think a blitz is coming from one area when the attack is coming from elsewhere. Learn to recognize the various disguised looks of a defensive formation. For instance, which linebackers blitz more on third down? Work diligently to learn all the audibles and play changes put in place for your opponent by the coaches. By successfully countering what the defense is trying to do, the offense will be able to get the ball into the end zone.
Practice Makes Perfect
There are no shortcuts in learning how to read football plays. The more video you watch, and the more you practice and play games, the better you will become at reading football plays. Use the numerous televised football games to sharpen your skills. Watch a college or pro game as if you are going to be playing those teams. Use the scouting techniques taught by your coaches. Do not miss an opportunity to get better.