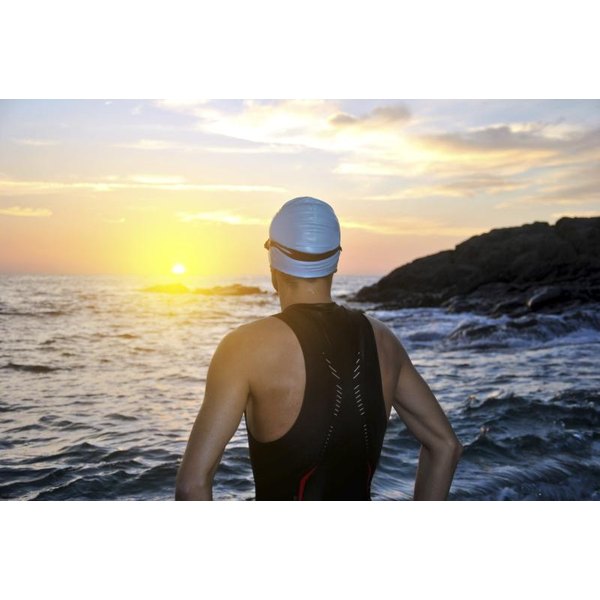 Dozens of 140.6-mile races -- consisting of a 2.4-mile swim, 112-mile bike ride and 26.2-mile run -- are held each year, but none holds the same prestige as Ironman Hawaii. Only 2,000 athletes race in October on the iconic Ironman World Championship course, while more than 80,000 want in. About 2.5 percent of racers will qualify at another Ironman-branded race of the same distance and be offered an entry. In addition, a few lottery, charity and legacy slots are available.
Age Group Athletes
Every branded 140.6 Ironman race has at least one Kona qualifying slot in each age group available. Most races offer 50 slots. In 2013, four half Ironman races -- Eagleman, St. Croix, Auckland and Japan -- offered qualifying slots as well. The half Ironman consists of a 1.2-mile swim, a 56-mile bike and a 13.1-mile run. You earn a slot by finishing at or near the top in your age category. How many slots are available depends on the number of other participants in that category. For example, the most popular age group categories of 35 to 39 and 40 to 44 in both genders tend to have multiple slots, while less-popular age group slots such as a the 70- to 74-year-old-category might offer only one.
Roll Down
You must be present at the slot allocation and roll-down ceremony, usually held the day after an official Ironman 140.6, to claim and pay for your Kona slot. Winning your age group pretty much guarantees you a slot to Kona, but if the winners in your age group have already qualified, the slots roll down to the next best athletes. For example, say you come in eighth in your age group and five slots are available. If the people who came in first through fourth already qualified, aren't present or refuse the slot, you get an Ironman World Championship slot. "Triathlon Competitor" magazine reports that at more than half of the full Ironman races held between October 2012 and October 2013, more than 50 percent of the qualifying slots rolled down to athletes below ninth position in their age group categories. If an age group has no qualifiers or no claimed slots, then those slots are reallocated to another age group category of the same gender with the largest athletes-to-slots ratio.
Qualifying Times
No specific time is necessary for qualification, just one that is faster than your competitors. Kona qualifying times, on average, improved by 2 percent from the 2011-2012 to the 2012-2013 season. How fast you complete a race is dictated by the particular course and conditions. To give some context, in the 2012-2013 season men's 40-to-44 age-group category, the slowest qualifying times ranged from 9 hours 23 minutes to 10 hours 19 minutes. For women, aged 35 to 39, the slowest qualifying times ranged from 9 hours 23 minutes to 11 hours 47 minutes.
Professional Triathletes
Professional triathletes qualify for Kona based on a points system. The top 40 scoring male athletes and top 28 scoring female athletes qualify. Athletes earn points for racing in branded 140.6 races and branded 70.3 races. The scores are determined from the athletes' top five finishings at five branded races -- at least one and no more than three should be a 140.6-distance race. The point tally season usually begins in August and extends into August of the following year.
Special Categories
The SuperFrog triathlon, held in September in Coronado, California, serves as a qualifying event for athletes looking to enter the military division of the Ironman World Championships. This 70.3 event, created by Navy Seals in 1979, makes 20 slots available to military personnel of any country. Hand-cycle athletes can qualify at Ironman Cairns, Ironman 70.3 Luxembourg and Ironman 70.3 Buffalo Springs Lake. The first two of these races offer just one slot in each gender, while Buffalo Springs Lake offers slots to the top two males.
Alternative Entries
About 7,000 people enter the lottery to win one of 100 slots to the World Championships. Up to another 100 people are selected as legacy participants. To qualify for these slots, you must have raced at least 12 full Ironman-branded races, have never competed in the Ironman World Championships, have participated in at least one 140.6 distance Ironman race in the last two years and be registered to compete for one 140.6 Ironman race in the year you want to race Kona. Charity slots are auctioned off on eBay, with a starting bid of $10,000. All proceeds for these slots go to the Ironman Foundation. Qualifying and racing Kona one year doesn't guarantee you a return visit, either. Only the professional champion for each age-group category and hand-cycle champions from each gender earn a slot to the next year's race.