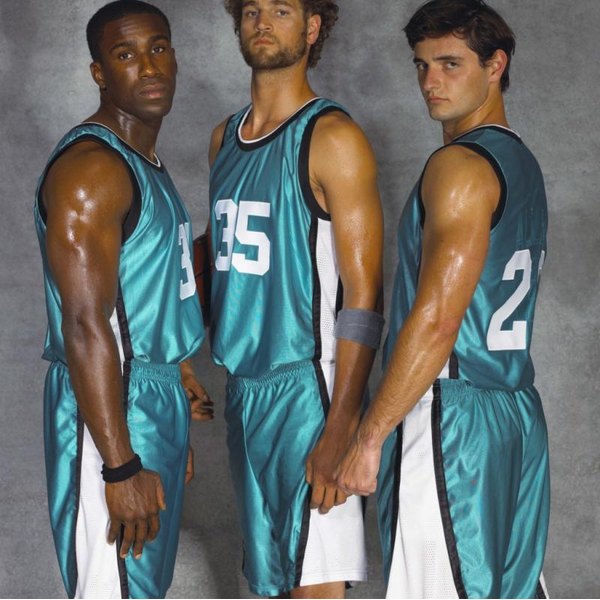 Once simple and plain, NBA uniforms now are fashionable and trendy. From the satin short shorts of the 1950s to the saggy baggy knickers of the 1990s, playing attire in the NBA has evolved. Often reflecting fashion trends throughout the years, NBA uniforms also have undergone advances in technology and style.
The Early Years
Unlike Major League Baseball and the National Football League, both founded before World War I, the National Basketball Association is a relatively modern professional sport. Founded in 1946, the NBA took off after Word War II. Uniforms worn by NBA teams in the early years reflect the league's more modern history. Teams in the 1950s wore satin shorts with a belt. By the 1960s, the belt was replaced by an elastic waistband. In the late 1960s, teams began wearing flashier uniforms, such as the horizontal color blocks worn by the Philadelphia 76ers during the Wilt Chamberlain era.
The Psychedelic 70s
By the 1970s the NBA had matured from its early days, and television was a greater part of league events. Teams wore colorful uniforms that reflected the funky fashion trends of the decade. Along with innovative design, new materials were introduced. Polyester mesh replaced satin for the shorts. The NBA also incorporated some of the designs that came from the competing American Basketball Association. Known as the "outlaw" league, the ABA used a red, white and blue basketball. Many team uniforms came in brighter colors and featured flashier lettering.
Awesome Eighties
With advances in graphic design, NBA teams began experimenting with new logos and team colors. \Jerseys began looking more like mobile billboards than uniforms. However, in 1989, the Champion sporting goods company became the official provider of NBA uniforms. This meant a more consistent look for NBA teams. Although teams maintained individual logo and graphic designs, all uniforms featured the same v-neck, block-cut jerseys. Shorts also were the same length throughout the league.
Bigger, Better and Baggier 1990s
The 1990s saw NBA shorts get looser and longer, yet lighter. Uniforms were made out of new lightweight materials to foster moisture management. Nike and Starter signed on as apparel makers in the late 1990s and introduced jerseys without layers of heavy twill lettering. Soon long baggy basketball shorts, made popular by NBA star Michael Jordan, were considered casual wear for men and boys.
A Throwback to the Future
Modern NBA teams have multiple uniforms, including "throwback" jerseys with colors and logos from previous decades. The NBA also experimented with jerseys with sleeves. The 2014 Boston Celtics sported uniforms that looked like the ones they wore in the 1960s, for example. However, no team has resurrected those tiny satin shorts.