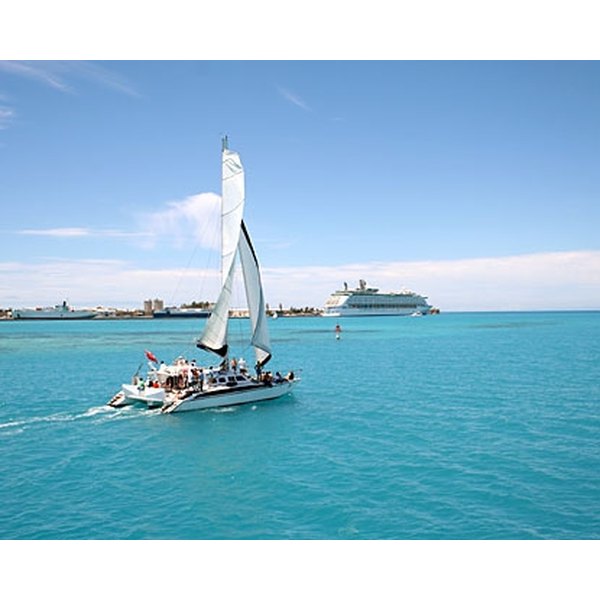 It's important to be prepared for a long sailing voyage, both mentally and physically. You should be a very experienced sailor if you are setting out as the captain of the boat. Sailing can be dangerous, so be sure to use precautions and keep an eye on the weather reports. Here are some other ways to prepare for a long sailing journey.
Packing
To ensure that you will remain healthy on your voyage, it's a good idea to have a physical before you leave. Pack plenty of food, fresh water, vitamins, and any prescription medications that you are taking.
Make sure that there are fire extinguishers, first-aid kits, life jackets and other safety equipment on board and know how to use them.
Packed layered clothing, waterproof gear for bad weather, sailing gloves, sturdy deck shoes, several pairs of sunglasses and lots of sunscreen. Don't forget about lip balm with SPF! Bring books, music and other things to do to stave off boredom.
Have a route planned out and let people know where you are going. Have a two-way radio for emergencies and flares. Be sure to check the weather reports before you go and plan conservatively to avoid storms and squalls.
Mental Preparation
To reduce stress during sailing, it's a good idea to practice relaxation techniques before your trip. Work on controlled breathing and relaxation.
Prepare emotionally for any emergencies. Practice drills and use mental imagery to review how you would react during certain situations, from a person falling overboard to bad weather.
Make sure that you have a positive relationship with the people you are traveling with. Get any grievances out in the open before your trip.
The Boat
Make sure that your boat is in good repair before you leave. Have the engine (if it has one) checked by a mechanic. Ensure that the electrical system is functioning and all safety equipment.
Make sure that the hull is in top condition and that even minor repairs are completed before you go. Small problems can get worse when you are out at sea. Check for gouges, scratches, dings and then repair them.
Check your sails to ensure that they are in good condition. Look for wear. Make sure that all lines and pulleys are functioning. Check all of the stitching.
All water systems, head systems and other critical systems should be inspected for wear and repaired if necessary.