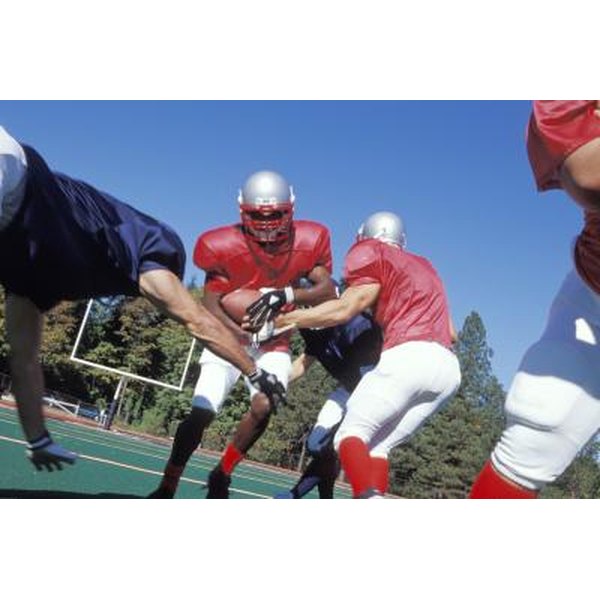 Football players can develop the necessary physical ability through individual exercises and team drills. The demands vary from position to position, but quickness, agility, strength and explosive power are valued everywhere on the field. Players should train to play everywhere on the field at young ages and then refine their training once they assume more defined team roles.
Strength Training
Offensive linemen and interior defensive linemen must add muscle bulk as well as sheer strength and movement-specific power. Wide receivers, defensive backs, running backs, linebackers, defensive ends and tight ends need less bulk and more speed and agility -- in addition to strength and power. Circuit training creates functional strength and prepares players for heavier lifting. You can start with light work, using body weight exercises, free weights and medicine balls. Shift to a weight training regimen designed to add muscle mass, then move to a power-lifting cycle designed to add maximal strength. The fourth weight training stage adds explosive power through lifts designed to match game movements.
Plyometrics, Ballistics, Isontonics
Quarterbacks, running backs, wide receivers, tight ends, linebackers and defensive backs can use exercises to enhance their explosiveness. Plyometrics or "box jumping" drills feature squats, jumps and other very fast movements. Ballistic drills feature rapid movement with light loads in full range of motion. Isotonic drills use many of the same lifts in the other types of weight training, but with lighter loads and more speed.
Agility Training
Football games feature short burst runs and quick direction changes. Offensive backs, receivers, tight ends, linebackers and defensive backs can replicate these movements with shuttle runs, "T" runs, zig-zags and other sprint pattern drills. They can use cones to create a short-distance course forcing them to stop, start and change directions. Linemen can use resistance drills with a partner. The runner assumes a crouched position. His partner creates resistance by putting his hands on the runner's shoulders. The runner runs in short, choppy steps while the partner steps backs and pushes on the runner's shoulders to slow him down.
Pepper Receiving Drill
Skill work is essential for everybody around the ball. One example is a two-ball "pepper drill", where a line of throwers faces one receiver. The first thrower has the ball, as does the receiver. The receiver throws the ball to the second person in line, then catches the pass from the player at the end of in line. The receiver throws the ball to the third person in line and catches a pass from the second person in line and so forth. This helps you develop better concentration, reflexes and receiving technique.
Chute Drill
Tackling skills are best developed with simulated football game actions in a group setting. In one classic football drill, players form two lines and a "chute" between them. On one end of a chute is the ball-carrier. At the other end is the tackler -- an evenly matched player in terms of size, strength and ability. The ball-carrier tries to reach the other side and the tackler tries to prevent him from making it. This drill is appropriate for quarterbacks, running backs and receivers on offense and everybody playing defense.