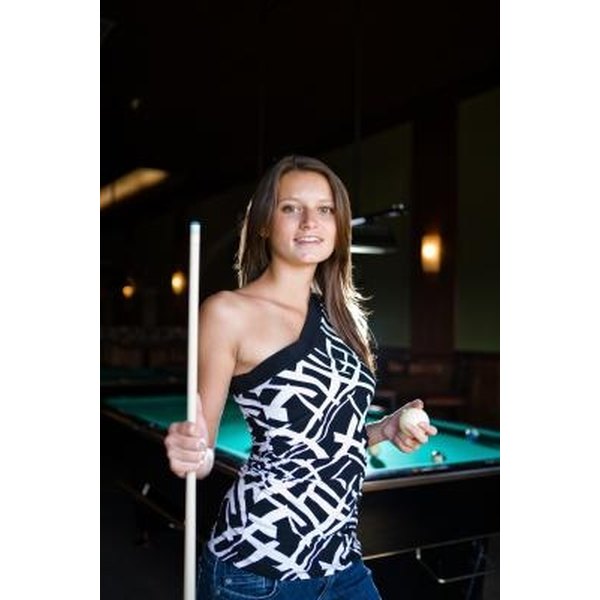 Whether a beginner or a professional pool player, your pool cue stick is one of the most important facets of the game. Pool cues are available in numerous styles and price ranges, yet some have proven to be much better than others. The best pool cue sticks, which are featured below, have the highest quality, features, balance and handling one can find.
Joss JOS01 Maple with Ebony Circles Pool Cue Stick
This pool cue stick from Joss may not be the fanciest, but it's certainly very high quality. The Joss JOS01 pool cue features a birdseye maple style sleeve with six decorative ebony circles. Within the ebony circles, there is gorgeous diamond shaped mother of pearl notched inlays. This pool cue stick features a 12mm triangle tip, a 29" long shaft with a 9-10" pro taper and a stainless steel joint. This cue gives a great still feel when shooting pool, and the shorter shaft taper is another of its strong points. Made by Joss, a family business, this pool stick is also marked at the joint with a unique serial number.
Players Sneaky Pete Cocobolo Pool Cue Stick
This cue stick from Players' Sneaky Pete Series is a quality product at an affordable price, which makes it one of the best pool cue sticks money can buy. This Sneaky Pete cue is made from cocobolo, a tropical hardwood from Central America. It does not feature a wrap, but the shaft is made from the natural wood of 100% Grade A North American Hard Rock Maple trees. It also features a wood to wood joint and a Le Pro tip. When shooting pool with this Sneaky Pete cue, it should feel smooth and perfectly balanced and should work well for anyone from beginners to professional pool players.
Lucasi L-H40 Hybrid Pool Cue Stick
The Lucasi L-H40 hybrid pool cue stick is certainly one of the more unique pool cue models on the market. It comes in Shadow Silver and is made with a G5 Grip wrap with an X-Shox Dampening Technology System, as well as with Total Sweet Spot Construction and Zero Flex-Point Ferrule with Lightweight Core. This is a high end pool cue that's price will certainly be worth the value. The Uni-Loc quick release joint pin and Moori medium tip make this cue a great shooter, and the wrap and 29" Hard Rock Maple shaft make this pool cue stick solid and balanced as well.
McDermott G1601 Pool Cue Stick
The McDermott G1601 is one of the very best pool cue sticks. It is a top of the line model from the trusted McDermott brand. It features an attractive design with over 50 detailed, diamond-shaped turquoise inlays around the cue. Some of the features of this pool cue stick are a McDermott quick release pin with a stainless collar, a 1-2 Performance shaft, an Ivorene III 1/4" ferrule, a Recon Ebony handle and forearm, and a 12.75mm Moori medium tip. This intricate pool cue stick, which features numerous delicate designs, is full of class and handles incredibly well.