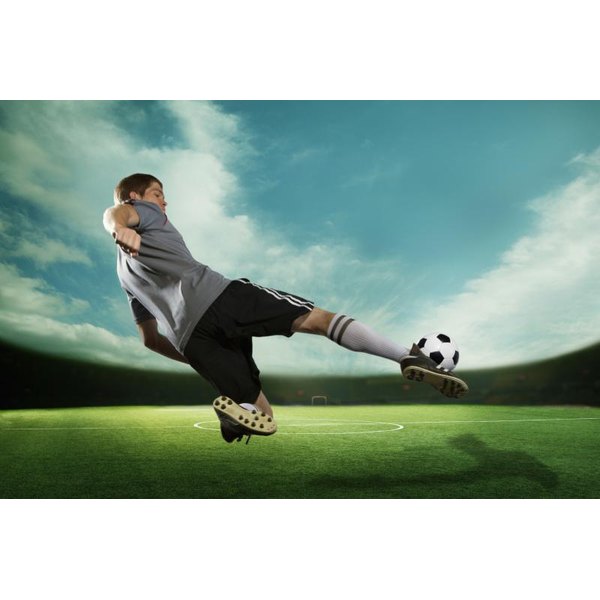 A 4-1-4-1 formation is a defensive-minded soccer alignment, clogging the middle of the field while offering favorable defensive match-ups against many formations. It features four backs, a holding midfielder, four midfielders and a single striker, hence the 4-1-4-1 moniker. You may shift from this formation to a 4-4-2, 4-3-3 or 4-2-3-1 look to become more offensive or defensive.
The Fullbacks
If you are on the last line of defense, you want to stay compact with your fellow backs and keep a second player near the ball. Stay ready to move up to close the gap behind the midfielders, supporting the defensive midfielder and preventing outnumbered scenarios. Guard against aggressive opposing wingers moving up to work inside. Some coaches may turn the fullbacks loose to create more pressure while bringing their holding midfielder back.
Defensive Midfielder
As the fifth midfielder, you may have to mark the opposing striker floating in behind the other four midfielders. Or you may serve as a shield for the four backs, taking away passing lanes. Arsenal struggled with the 4-1-4-1 formation during the 2014 season because Mikel Arteta and Mathieu Flamini, sharing the defensive midfielder spot, could not always protect their backs. With the ball, you must operate like a basketball point guard, circulating the ball to start plays. At times, you may also step up as the sixth attacker.
Center, Right and Left Midfielders
Your primary task as a center midfielder in this scheme is to clog passing lanes and tilt the field toward the rival goalkeeper. When playing one of the outside spots, your speed and endurance will be tested. You must come back to thwart opposing rushes, then race back up to join the lone striker on the attack. It's your job to turn an inherently defensive formation into a more offensive scheme.
The Lonely Striker
This alignment puts a tremendous load on the solitary striker. You must do the work of two players while playing out high in the 4-1-4-1, turning on your speed to test the defense and force mistakes. You must also drop deep and use your strength to hold the ball while your teammates to move up. After linking the play, your objective is to move up and try to finish with a strong shot on goal.