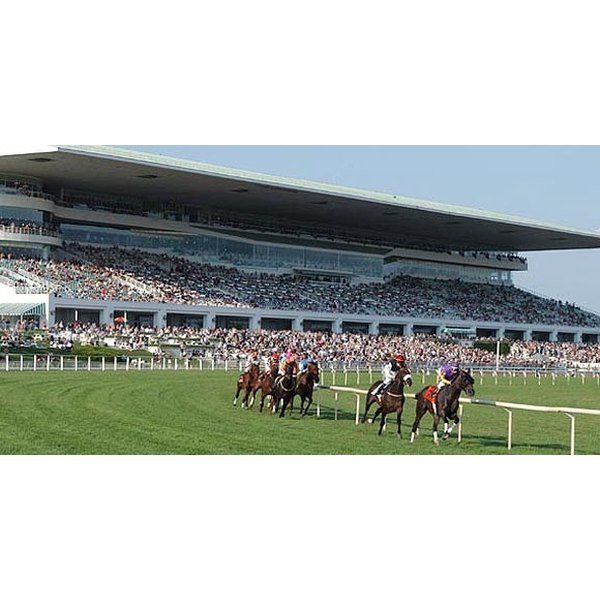 There's nothing like a day at the races. Arlington Park is one of the nation's most beautiful race tracks, located about 40 minutes from the heart of Chicago. Here's how to plan a full day of exciting racing action at Arlington Park.
A Day of Horse Racing in Chicago
Park your car.The first obstacle you'll be faced with is where to park. There are some good options.There is plenty of self-park spaces available that are only about a three to five minute walk to the front gate. But if you're feeling sporty you can just pull right up to the entrance where they provide valet parking for a small fee. If you think you might win at the races, why not go for it?
Get your racing information.With your admission fee, you will be given a short racing program that lists minimum information about the horses. For the casual horse player, it will probably suffice their needs, but if you are looking to really bet with some purpose, grab yourself a Daily Racing Form from one of the stands outside.If you feel the need, Arlington also offers handicappers selections. They are all different, but often include a winning pick, some exactas or trifectas and a play of the day Some of the people making those picks can give you excellent information, so picking up a sheet or two is not a bad idea.
Sit down in your seat.There are a number of seating areas at Arlington Park. General admission is $7 and seniors can get in for $3 every Thursday and children under 17 are free when accompanied by a guardian (remember, they can't bet!). The park also offers premium seating for a higher price. There is reserved seating available and box seating, and a nice option is purchasing a box while at the track for a fee. It allows the entire group (up to about 10 people) to sit in a box together in a section that has waiter service.The track also offers private boxes that can fit anywhere from 20 to 50 people. These are obviously very expensive but is a great way to host a party. Some of them even come with your own private tellers.There is also indoor, restaurant seating available in a few different rooms. They are much more expensive than regular seating, and are also very nice. Call ahead to check the dress code as some of these rooms have requirements.Season passes are also available and if you book your tickets online before you go to the park, you can get a discounted rate.
Head out to the paddock.One of the most beautiful parts of the entire race track is the paddock area, which was redone when the facility last hosted the Breeder's Cup. The paddock is where the horses sit just before they go out onto the racetrack. There they are groomed and prepped for their race. They are walked around the circular paddock for everyone to see. Race horses are beautiful, graceful animals and the paddock is the best place to see them.The paddock is located on the opposite side of the main building from where the track is. You can not miss it -- it is elegantly adorned with tons of flowers.
Bet the races.The bad news is that winning at horse racing is never easy. The good news is that no matter where you are sitting, there are tellers waiting to take your bet near by. They make it easy.Whether you prefer to bet via person or machine, you'll find plenty of both at Arlington Park. Near all of the betting areas are the television screens that show the races from all of the different parks that day. Simulcast wagering is a very popular choice to play.
Move down to the finish line.No day at the races should be complete without a visit to the finish line -- and we're talking eye level. Bring everyone down to the ground level and watch the race from the dirt. It's a thrilling way to see the race finish.