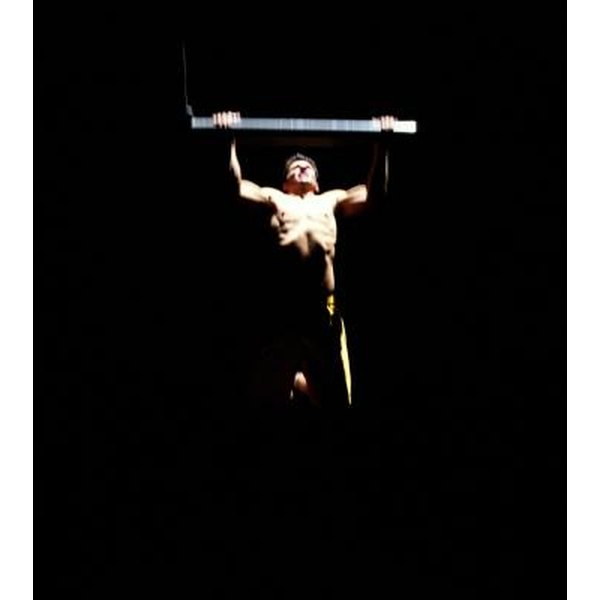 The Perfect Pullup is a piece of equipment that makes working out at home relatively convenient. It allows for a serious upper body workout and caters to both a beginner's level and more advanced fitness. Featuring a rotating bar, the Perfect Pullup isolates more muscles than a standard bar. It will support body weight up to 300 pounds and will fit in most standard doorways. Installation is relatively easy, and most of the materials are provided in the packaging.
Step 1
Measure your doorway's width using a tape measure. Your doorway must be between 27 and 36 inches wide in order to install the Perfect Pullup.
Step 2
Use the installation template to mark the four holes on each side of the door frame. Use your 5/32 inch drill bit to drill into the four marked holes on each side of the door frame.
Step 3
Screw the left J-Hook and left side bracket into the left side of the door frame using the screws that came with your installation kit. Repeat on the right side of the door frame with the right J-Hook and the right side bracket.
Step 4
Insert the left swing arm into the left bar using the bolts and spring washers provided. Repeat with the right swing arm and right bar. Insert the smaller right bar into the left bar.
Step 5
Line up the large hole in the left swing arm with the head of the left side bracket. Repeat on the right side.
Step 6
Swivel the bar upward and latch it into the J-Hooks on both sides of the door frame.
Step 7
Tighten the top Allen lock on the Allen collar with the Allen wrench that came with your installation package. Reposition and adjust the bar's fit in the J-Hooks as needed to ensure the safe operation of the pullup bar.
Step 8
Position the soft hand grips on the bar.
Step 9
Grab the bar and slowly put your full weight on the bar. It should be sturdy with no significant give. Attempt a pullup carefully if everything feels tightly screwed in.