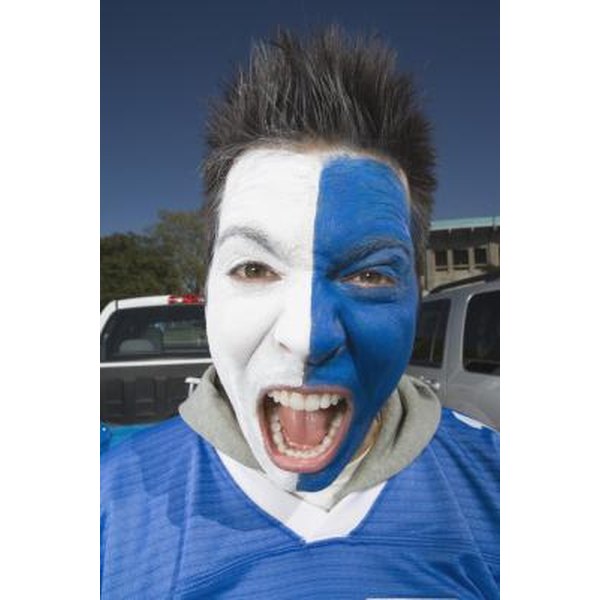 When football team spirit swells before the big game, wearing your team's jersey may not be enough to capture your true fandom. Show off your game face with easy-to-apply temporary paints that let you express exactly how you feel.
Paint Your Face
The easiest way to match your team colors exactly is to buy face painting kits with licensed colors from the NFL or college teams. The paints are available in kits with enough paint for up to 15 faces, a stenciling sheet and an application sponge. You can also find recipes online for making homemade paint with food coloring. Avoid markers -- even the washable kind can stain your skin for days afterward -- and nontoxic hobby paints, as allergic reactions are common. Spritz a little water on your applicator sponge to help apply a smooth, even layer. If you want more color, add a second layer, but keep each layer thin to avoid cracking and flaking while you're yelling for your team.
Don't Sweat It
Even during cool weather, rooting for your team can cause your makeup to run away in a rivulet of sweat. Apply a makeup primer before putting color on your face to help your makeup stay in place. Avoid products labeled as anti-aging or hydrating, as they're more likely to become greasy once you begin to perspire. Finish your face with a touch of translucent pressed powder applied lightly with a brush. Top it all off with a make-up setting spray for extra protection against the heat. Bring a compact of powder with you to the tailgate party and game for quick touch-ups. If your lips are painted, you'll want to take a bit of color to repair your look after eating or drinking.
Put the Top Down
If you want to pull your shirt off and show your spirit from the waist up, use a quality cosmetic paint to avoid bleeding onto upholstery, clothing or your friends. Sweatproof and smudgeproof alternatives, designed to last all day from tailgate party to the afterparty, include waterproof airbrush body paint and latex paint. A small paint sprayer like you'd use to paint your interior walls is suitable to spray the airbrush paint, or you can paint it on with a brush in several thin layers. Waterproof paint sets easily with finishing powder, won't rub off during the game and washes off with soap and water. Paint your 3-D team logo on your chest or back using liquid latex. Do a patch test 24 hours before using to check for latex allergies and make sure to shave the area where you intend to apply it. This paint simply peels off when you're done.
Paint Your Wagon
Show off your team spirit en route to the game by painting your team logos or colors on your car. Decorate your windows with temporary glass paint or special window markers that let you write messages of support or draw your team's logo. If you want to add the logo to the side of your car, you'll need special temporary car art paint that won't damage your car's paint job. Special pigments let the paint dry in about a minute and resist running in the rain. When the game is over, simply wash it away with a bucket of soapy water and a sponge. You'll find both markers and paint at your local hobby store or big-box retailer.