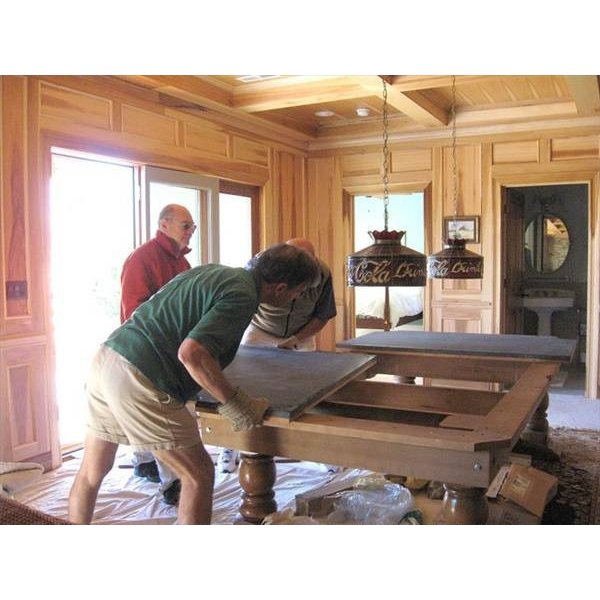 The Brunswick Company has been building and selling some of the finest and most dependable pool tables in the world for over 150 years. The heavy materials, precision craftsmanship and perfect balance built into every Brunswick table makes owning one a major investment and moving one a complicated and often difficult proposition. There are three options available to anyone wanting to relocate a Brunswick table. Follow these steps to complete the task correctly and safely.
Follow the instructions provided with your table, and carefully dissemble your table piece by piece. Mark each piece with a magic marker (on inside areas, where it will not show later) as you go along to make sure the table goes back together in the same way it came apart.
Remove the rails first, followed by the pockets (which are attached to the rails) and the screws holding the slate to the cabinet. Remove the slate from the table---remembering to hold it and transport it vertically on edge. Do not lay the slate flay until it is placed back on the table.
Using a dolly, move all pieces to the new location, assemble the table and level it according to manufacturer's instructions.
Or you can rent a pool table dolly. If you are lucky enough to be moving your table a short in-room distance or are blessed with large doorways for your move---a pool table dolly might be perfect for you. These large, flat dollies lift your table in the same manner as a car jack--rolled under the table and jacked up on a balanced plate that does not damage the slate. From there, the table can be rolled to its new location or up a ramp and into a moving truck. See Resources.
Hire professionals. A pool table is more than just another piece of heavy furniture, and improper moving techniques can easily damage the slate and balance of your table---potentially voiding your Brunswick Limited Lifetime Warranty. A Brunswick authorized dealer can help you find a professional piano mover who can do the entire job for around $200.