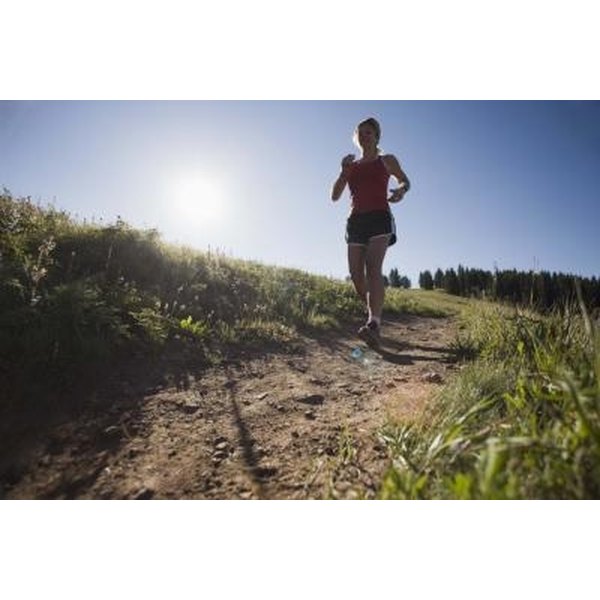 Planning a 5 kilometer (3.10 miles) outdoor run is a nice way to get exercise while avoiding the repetitive drag of a treadmill. Internet websites specializing in fitness can help you customize a route in your local area and help you keep track of distance, calories burned and elevation changes. Experiencing new running routes and tracking your mileage can help you stay motivated to meet fitness goals.
Map Your Run
Visit websites like mapmyrun.com or gmap-pedometer.com to plan your 5K run. Type in your home address or zip code in order to localize the map. Once the map displays your city or county, zoom in using the "+" sign on the left hand side of the map. Do this until you can see the individual streets. Decide where you would like to begin your run and click on the location. Using the map, click on other streets and link your initial starting area to the new location you have selected. In doing this, the websites will automatically create a line between the two points and calculate the distance of the run. On Gmaps Pedometer, you must hit "Start recording" in the upper left hand corner before you can click on the map.
Click "Satellite" view under the "Map Options" drop down tab. This feature allows you to see the terrain of your region. By doing this, hills and trails in your local area are displayed, allowing you to create an off-road route if you choose to do so. Because there are less distance demarcations in an off-road setting, map out exactly 3.10 miles when planning for a 5k off-road run.
For more difficult exercises, choose areas of your city or town that have drastic elevation changes. Running on inclines and slopes tends to burn more calories. With this in mind, do not be afraid to challenge yourself with a difficult running route.