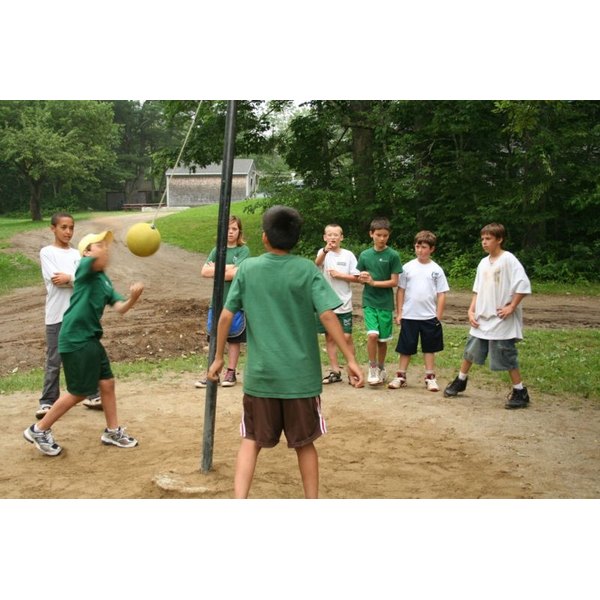 Some versions of tether ball play like dodge ball, tagging or dodging other team players. In order to play, a solid tetherball court is necessary to keep your energetic throws stable and safe. Not many tether ball courts are around anymore, but you can start a trend in your neighborhood by making your own tetherball court and hosting a game in your own backyard.
Drill a hole through the pole. Use a drill capable of penetrating metal, and drill a hole about 4 inches from the top of the pole. Put the eyebolt in this hole.
Dig a hole in your backyard. Choose a spot with plenty of space, and find a spot with shade if possible. Dig a hole in your yard about 2 ½ feet deep, with at least a 2-foot diameter so the pole can fit in the hole. If you live in a windy area, dig a hole 3 feet instead of 2 ½ feet.
Set your tether ball base. Pour 6 inches of concrete into your hole. Let this settle a bit. Put your 2-foot long pipe in the center of the hole. Use your level to make sure the pipe is parallel to the ground. Add concrete to fill the remaining hole and around the pipe. You will need to find a way to hold the pipe in a level position until the concrete dries.
Slide the 10 to 12 foot pole into your tether ball base once the concrete dries. The tether ball pole should be a tight fit into your tether ball base pipe.
Attach the rope and ball. Tie the rope in the eyebolt and attach the rope to the latch on the ball. The tether ball comes with its own latch to hook to attach the rope.